Transporter 4 For Jason Statham? Here's What He Said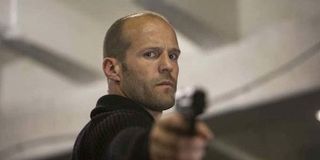 Jason Statham is all over the place, kicking ass in high-octane action films, and even stretching into comedy with the espionage send up Spy. He's also not opposed to appearing in franchises, like the Fast & Furious films or The Expendables, but he recently said he will not be returning to one of his best known, The Transporter, but is totally game for more Crank.
While doing the press rounds for Spy, Yahoo caught up with Statham and McCarthy and fired off a barrage of questions during a lightning round three-minute interview. When asked about the possibility of returning for The Transporter 4, Statham was brief, brusque, and got his point across with a one-word response:
That seems rather clear and doesn't leave a lot of room for optimistic fans of Statham's character, Frank Martin, to interpret his statement. At least it doesn't leave much hope of seeing Statham's version of Frank Martin on screen, as the character will actually grace the silver screen at your local metroplex later this year. Ed Skrein, formerly of Game of Thrones, picks up the mantle in The Transporter Refueled.
With the role now being taken over by another actor (one who's role on GoT was taken over by another actor no less), it's easy to understand why Statham doesn't want to return to his Transporter roots. Plus, he's carved out a rather successful career for himself in the meantime, and has plenty to keep him busy.
But while he's not keen to revisit this particular one of his earlier hits, he does appear totally down to go back to another one. When asked about the possibility of making a Crank 3, a third installment of the insane action series, Statham replied:
While the actor sounds like he's game, this five-word response, practically a novel in comparison to the other statement, also doesn't make it sound like this is going to happen, or at least not anytime soon. Granted, I don't know that most of you are looking for logical flow from a Crank movie—Crank 2: High Voltage is like a meth-fueled fever dream—another installment in the saga of Chev Chelios is going to take some doing as last time we saw him on screen he was literally on fire. Also, you have to wonder why Statham would want to revisit one franchise but not the other. There's probably a story there.
If you're worried about not seeing Jason Statham in familiar roles, don't worry too much, as he's also set to reprise his role of Arthur Bishop in Mechanic: Resurrection next year. And in the meantime, you can check out a different side of the tough-guy actor in Spy, where he is reportedly absolutely hilarious as he branches out into comedy.
Your Daily Blend of Entertainment News