10 More Supervillains Jason Statham Could Play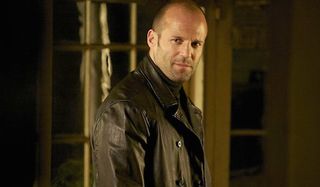 Yesterday, it was reported that Jason Statham is being looked at to play Bullseye in Daredevil Season 2. While Marvel claims there's no truth to this rumor, many have thought that this would be a good fit for the actor given his vast experience in action movies like The Transporter and The Expendables. However, even if he doesn't end up fighting Matt Murdock next year, there are still plenty of other evildoers that he could portray should he choose.
Statham was recently critical of Marvel's CGI action sequences, and he's said in the past that he's not a fan of superhero movies. So realistically, him joining a comic book movie doesn't sound like it's in the cards.That being said, it's always fun to play the "What If?" game. Assuming that we live in a world where Statham would be willing to jump into the world of superheroes and breathe life into a supervillain, here are ten villains we think he could play.
Vulture
Typically Spider-Man's winged foe is older and not physically imposing, but there's nothing wrong with making him more of a badass. Vulture is one of the Spider-Man villains that hasn't appeared yet on the big screen yet, and with the next Spider-Man solo film only a couple years away, Adrian Toomes is a prime candidate for the first adversary the new Web-Slinger faces. Admittedly, Statham's bald head is part of the reason he was chosen for this role (like several of the other entries on this list), but even going beyond that, Statham's stunt work experience would give him an advantage for action sequences involving that wing harness the character wears. Add in a little bit of that intensity that Statham has brought to various projects, and we have a unique interpretation of Vulture for the MCU.
Hugo Strange
It was rumored earlier this year that Hugo Strange might appear in Suicide Squad, but that has yet to be confirmed. Still, it would be great to see the demented psychiatrist antagonize Batman in one of the new solo films being planned, and Statham can bring something new for this version of Strange. The spectacled doctor has always been one of the Caped Crusader's cerebral enemies, but how cool would it be to see a version of him that's actually able to fight too. Granted, any plan Strange is plotting against Batman would involve brutal mind games, but if push came to shove, he could put up a resistance against the vigilante. Think of Statham's Hugo Strange like The Dark Knight Rises' Bane. He's highly intelligent, but is also more than capable of defending himself…though Statham's Strange wouldn't be anywhere near as strong as Tom Hardy's Bane.
Sinestro
Mark Strong won't be reprising Sinestro for the DCCU, so someone else will have to fill the villain's shoes for the Green Lantern reboot. Whether or not it's Hal Jordan or John Stewart as the titular hero, they need to be facing off against the yellow ring-wielding antagonist, and Statham might be a good pick to take up the fear-filled mantle. Not only does he somewhat resemble the character physically (minus the hair), but if those power rings ever run out of a charge and the hero and enemy are forced to thrown down, you know Statham's Sinestro is going to bring the pain. The action star is also at just the right age where you can picture him as a renegade who's had years of experience previously serving the Green Lantern Corps. The only major thing that concerns me is whether or not Statham could grow out Sinestro's pencil-thin mustache.
Mr. Freeze
It's been 17 years since Arnold Schwarzenegger's portrayal of Mr. Freeze in Batman & Robin (a role many of us continue to mock), so it's about time for a fresh live-action take on the icy evildoer. Once again, Statham's physical appearance is one of the reasons why he would be a wise choice as the villain, specifically the bald head. At minimum, just picture him wearing frosty makeup and inside Freeze's containment suit. Visually, it's a perfect fit. From there, Statham's would just need to work at embodying Mr. Freeze's tragic nature and chilling personality. In other words, doing the opposite of everything Schwarzenegger did. In all seriousness though, if he can understand what makes Mr. Freeze tick, Statham's version of the villain would be an excellent addition for the DCCU.
Maximus The Mad
Even though Marvel hasn't announced anything about what to expect for their 2019 Inhumans movie, it's a good bet that the Royal Family of Attilan will be the main characters. That means it's likely that the villain will be Black Bolt's brother Maximus the Mad, who is capable of mind-control and invents crazy tech. While Black Bolt is strong and imposing (though not a talker), Maximus is typically depicted smaller in stature and more conniving, but casting Statham as Maximus might be better so that Black Bolt and the other Inhumans have someone to physically battle in case his inventions or mind control fail. Plus, if Vin Diesel gets his wish to play Black Bolt, then we'll have a better physical resemblance between the two brothers.
Ming The Merciless
First leading his own adventures in a comic strip over 80 years ago, Flash Gordon has appeared in many other forms of media over the decades, and it was recently announced that he will be returning to the big screen soon. Reports have varied between the new movie being a sequel to the 1980 film or a reboot, but if it's the latter, then a new version for Flash's main nemesis Ming the Merciless is called for. As long as Statham doesn't mind delivering corny lines, then he could play a pretty good Ming, making him both intimidating and formidable. However, like with Sinestro, the facial hair could be troublesome. That beard is just as iconic as his bald head, so if Statham was chosen as Ming, it might be necessary for the costume or makeup department to come up with a workaround.
Mirror Master
The Flash's solo film is three years away, so it will be awhile until we learn which villain the Scarlet Speedster will face off against. Although adversaries like Captain Cold and Reverse-Flash are probably higher up on the list, in Statham's case, he is better suited to play the reflective Mirror Master. Although Sam Scudder was the first Mirror Master in the comics, Evan McCulloch is a much better fit for Statham. McCulloch's background as an assassin makes him well suited for Statham's action and stunt experience. And hey, if Statham can't pull off McCulloch's Scottish accent, then he can just keep using his natural English accent. As long as he can capture the supervillain's ruthless personality, he'll do fine.
Ocean Master
After Black Manta, Aquaman's half-brother Orm, a.k.a. Ocean Master, is his greatest adversary. The King of Atlantis won't be venturing out on his own until 2018, but casting Statham as Orm would give Jason Momoa's Aquaman a great underwater enemy. Statham can bring the ferocity necessary for Orm, a man who is desperate to claim the Atlantean throne, and it also gives him the unique opportunity to perform his stunts in a simulated underwater environment. Not many actors can say they've done that. The only issue here is that Statham is older than Jason Momoa, so they would have to come up with an explanation why Arthur Curry's younger brother looks older than him. Maybe that Atlantean environment isn't as kind to everyone's features.
Taskmaster
As I've stated many times, Statham does his own stunts rather than rely on a stunt performers to fill in for him. Although the Marvel universe has a variety of physically talented individuals, perhaps one of its most unique is Taskmaster, a villain/anti-hero who has muscle memory, i.e. the ability to replicate any physical movement (excluding inherent superpowers/abilities, of course). This has subsequently made him a experienced fighter and deadly assassin. If this isn't a great use for Statham's talents, I don't know what is. He gets to fight one-on-one with whatever superhero he's pitted against (if he wasn't at a different movie studio, Deadpool would be a prime candidate), he gets to wield a variety of weapons, and act as an overall badass. If the Thunderbolts are ever adapted for the MCU, this also means that Statham would get to be one of the prime members of reformed villains. How's that for extra incentive?
Mister Sinister
The X-Men movies are running out of iconic villains to adapt, but fortunately Mister Sinister has yet to be brought to the big screen. Born Nathaniel Essex, Sinister is a genetically altered human who has walked this Earth for over 150 years. While his various abilities are enough to make him a threat, it's his unethical genetic experiments that make him especially terrifying. That puts Statham in the position of not only playing a villain who is powerful enough to combat the mutant heroes on his own, but is also a master manipulator. It also helps that Essex was born in London, so Statham would just need to adjust his accent accordingly to nail down the voice. Just slap some white makeup on him, and you have a pretty good looking Mister Sinister.
Connoisseur of Marvel, DC, Star Wars, John Wick, MonsterVerse and Doctor Who lore. He's aware he looks like Harry Potter and Clark Kent.
Your Daily Blend of Entertainment News
Thank you for signing up to CinemaBlend. You will receive a verification email shortly.
There was a problem. Please refresh the page and try again.