Tribeca Interview: Dan Fogler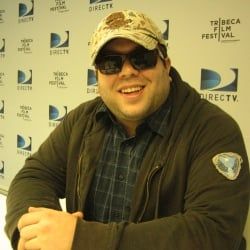 Dan Fogler is probably the best possible subject for a video interview. Not because he gave me all that much to look at-- the morning after the Tribeca premiere of his movie, Hysterical Psycho, he didn't remove his sunglasses-- but because his facial expressions and turns of phrase are virtually impossible to transcribe properly. Not to mention the Hitchcock impression-- and trust me, you want to watch this video for the Hitchcock impression.
Or you could actually check out Hysterical Psycho to see it, since the movie is not only Fogler's directorial debut, but also features him in three roles-- a psychiatrist during the film's prologue, an animated Hitchcock-esque alien in the main part of the film, and himself, the director, in the very meta ending. If that's not enough to intrigue you about this movie, here's how he describes the way they plotted the thing: "The train was in motion and we were building the track as we were going along. "
Check out our interview below, conducted in the DirecTV Tribeca press center, in which we talk about Fogler corraling all his New York theater friends to make the movie with him in the dead of winter in Maine, as well as some of his upcoming projects, including Mars Needs Moms and a movie in which he'll play a real, corporeal Alfred Hitchcock. We started by talking about the premiere the night before, and the technical difficulties that preceded the successful screening.
Your Daily Blend of Entertainment News
Staff Writer at CinemaBlend