Tribeca Interview: Sleepless Night Director Frédéric Jardin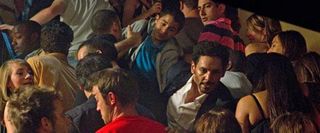 How about a feature film involving a cop running frantically through a packed nightclub, music booming, and vicious fights and scuffles breaking out all over the place? Oh, and an in-motion car battle, too. Sounds like a blast right? Of course, but it also sounds like quite the challenge for director Frédéric Jardin.
Sleepless Night tells the story of Vincent (Tomer Sisley), a cop taking part in a drug heist that goes horribly wrong. Vincent gets the coke, but in the process, the enemy learns his identity. Shortly after, Vincent finds out his son has been kidnapped and the only way to get him back is to head over to Marciano's (Serge Riaboukine) nightclub and return the drugs. Trouble is, a pair of Internal Affairs officers is onto him and when they spot Vincent in the nightclub, they complicate what could have been an easy handoff.
It's been a little while since Jardin directed a feature film, but he's certainly back in full force. Jardin was in town to celebrate Sleepless Night's New York premiere at the Tribeca Film Festival and took the time to sit down and chat about the process of bringing the story to life. We've got intimate shooting techniques, multi-country locations, sets packed full of extras and more. Check it all out in the video interview below.
Your Daily Blend of Entertainment News
Staff Writer for CinemaBlend.
Your Daily Blend of Entertainment News
Thank you for signing up to CinemaBlend. You will receive a verification email shortly.
There was a problem. Please refresh the page and try again.