Tucci Joins Streep And Adams In Cast Of Julie And Julia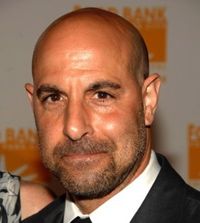 Stanley Tucci is clearly trying to get teenage girls to love him. That's the only explanation I can come up with for his continued presence in unabashed chick flicks, starting with last summer's The Devil Wears Prada and now in the upcoming Julie and Julia. The new project-- directed by Nora Ephron, for crying out loud-- is about a woman (Amy Adams) who decides to cook every recipe in Julia Child's Mastering the Art of French Cooking over the course of a year. During her journey she takes spiritual advice from her idea of Julia Child, played by Meryl Streep. Tucci will play Child's husband in flashback's to the couple's time spent in Paris.
The movie, of course, is based on a book that's based on a blog, which seems to be the origin of every "I did this and that for a year and this is how it changed me profoundly" memoir. Julie Powell is the "Julie" of the title, and while I enjoyed some of her writing and the stories she told, I found her general attitude completely irritating. Talking about how much you yell at your husband and how much you hate your life and how hard it is to cook French food really doesn't make a person want to like you, much less continue reading your book.
I count on Adams to make this character likeable, because she's about the most likeable actress on the planet. And Streep, well, enough said. Tucci's addition to the cast confuses me, since very little attention is paid to Child's husband in the book, but I'm guessing they're rejiggering to make Child more of a real character (in the book, Powell spends a good amount of time imagining what Child would say to her but never actually meets her). The chances are looking good that this movie will not at all resemble the book, which in this case I think can only be a good thing. Thanks, Stanley Tucci. You're probably doing us all a favor, even if you will now be remembered for emasculated roles in random chick flicks.
Your Daily Blend of Entertainment News
Staff Writer at CinemaBlend