Turkey Declares Nymphomaniac Porn, Bans It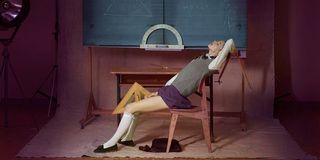 Lars von Trier is a filmmaker defined by the heated receptions his films receive. From its conception, his two-part erotic drama Nymphomaniac was destined to get tongues wagging. Featuring hard-core sex and gruesome violence, the movies may be too much for most moviegoers to handle. But cinephiles in Turkey won't have the choice to see it in theaters, as the nation's film board has banned Nymphomaniac outright.
THR reports, Nymphomaniac Volume 1 & 2 would receive an 18+ rating for its explicit content. Similar to the United State's NC-17 rating, this label would have prevented anyone under the age of 18 to see the film. However, Turkey's film board took things a step farther, determining the movies are less art house drama, more pornography. Nymphomaniac: Volume 1 was scheduled to open in Turkey on March 14th, with Nymphomaniac: Volume 2 following on March 21st. But with a vote of six to two, the board made up of members of cultural, interior and education ministries the nations, along with a sociologist and a psychologist, killed its upcoming theatrical release.
Cinema general director Cem Erkul explained the decision was reached because of Nymphomaniac's graphic depictions of sex as well as scenes exhibiting "extreme violence against women."
Of course the vote was not unanimous, and dissenting board member Yamac Okur has taken to Twitter to rail against the move he sees as censorship. Earlier today, he re-tweeted this press release from Yeni Sinema Hareketi (New Cinema Movement) It's headline translates to "New Cinema Movement press release: 'Free Art, Free Cinema oppose the censorship"
Also stepping forward to decry the move, is celebrated Turkish filmmaker Nuri Bilge Ceylan, who most recently helmed Once Upon a Time in Angola, a drama that played at the New York Film Festival among other prestigious venues. Ceylan tweeted that the age restriction rating should be enough, but censorship like this is going too far.
THR suggests this prohibitive decision might show the cultural influence of conservative Prime Minister Recep Tayyip Erdogan, whose party has been the main force in the nation's politics for over a decade. There's a growing concern that this kind of censorship means an intentional shift away from the generally secular atmosphere of Turkey is being implanted through government intervention.
However, just because the film board was able to block Nymphomaniac Volume 1 & 2's theatrical release, doesn't mean they can completely shut it down. The film will play as planned as part of the Istanbul Film Festival this April. And with the intervention of streaming options, wily Turks might be able to see what the board's trying to hide after all.
Your Daily Blend of Entertainment News
Staff writer at CinemaBlend.