If Twins 2 Happens, This Is What It'll Be About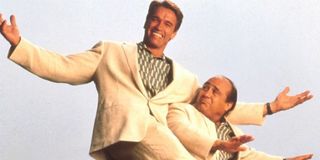 Universal has been developing Twins 2, titled Triplets, for a while now. The plan is to bring back Arnold Schwarzenegger and Danny DeVito in their classic roles as unexpected brothers Julius and Vincent. Josh Gad is the guy who wrote the script, and during a recent AMA for his upcoming movie The Wedding Ringer, he let loose some information on the plot.
In a response to a direct Twins 2 inquiry from a fan, Gad wrote:
The first film premiered in 1998 and followed one man's search for his long-lost fraternal twin brother, who ends up being a significantly shorter man involved in some shady activity. Turns out the two were birthed by means of a genetic experiment, and adding a third brother of a different race into the mix seems like an obvious treatment for the sequel. However, Gad's involvement on the script has us at least somewhat intrigued. Though he hasn't had a lot of experience on scripting duty, he's one helluva comedian. But it doesn't look like he'll be involved as a cast member. Later on in his Reddit response, he wrote:
However, is Twins 2 actually going to happen at this point? It's been a few years now since there were any major updates on the project, and it seems like it's hit a bit of a snag. Thankfully, we have an update on that, too!
The snuffing out of Twins 2 might be for the best, though it doesn't sound like that's going to happen. Schwarzenegger seems hellbent on reintroducing some of his long-dormant movies to a whole new generation — e.g. Terminator Genisys and The Legend of Conan — but this could easily turn into an excruciatingly cheesy comedy, and Schwarzenegger isn't the leading man he once was. So, is the world ready for more Twins? And would Danny De Vito and Eddie Murphy even do it?
Your Daily Blend of Entertainment News