Universal Responds To Our Mummy 3 Scoop!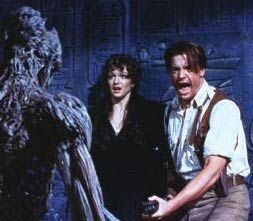 Yesterday we brought you the disappointing rumor that Universal's third Mummy movie might be in trouble (read that here). Word was that the script they were planning to use was a disaster, and that Brendan Fraser and Rachel Weisz might be holding off on joining the sequel because of it.
Today however, I spoke with an official representative from Universal, who vehemently denies this rumor. Obviously, they aren't very happy to have people saying their movie sucks before it even happens. Universal's official stance is that these rumors are completely untrue. According to their representative, the script mentioned in our scoop isn't being used. Instead, it's in the process of being rewritten.
They added that all of the principle actors from the previous films are currently in negotiations to return. We presume that means Brendan Fraser and Rachel Weisz at the least, and hopefully the likes of Oded Fehr and Arnold Vosloo as well.
Universal further adds that Rob Cohen has their full confidence. Sure Stealth was a bit of a miss, but they insist that he's launched two other successful, big franchises for them in the form of Fast and the Furious and xXx. They're happy with him.
So there you have it. That's Universal's stand on the whole Mummy 3 thing. I respect their decision to actually give us a call and respond. So often when we get a scoop like this the studio simply refuses to comment. Universal deserves a little credit here for at least addressing what's going on. Good for them. I'm not entirely sure any of this completely disproves the information our scooper gave us, but at least we know where things stand. Let's hope the rewrites go well. I'm on the record as being a fan of the first two Mummy films, I'd love nothing more than a fun return for the franchise.
Your Daily Blend of Entertainment News