Up And Coming British Actor Douglas Booth Playing Romeo To Hailee Steinfeld's Juliet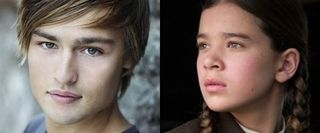 It was always going to be tricky for the director and producers of Romeo & Juliet to cast a male lead as accomplished or well-known as their 14-year-old, Oscar-nominated Juliet Hailee Steinfeld, and now it appears they haven't tried. According to Variety they've instead gone with an up-and-comer, casting 19-year-old British actor Douglas Booth to play Romeo in the film that shoots this summer in Italy. Odds are you haven't seen him in anything so far-- he was in the TV miniseries The Pillars of the Earth and played Boy George in a British TV movie about the singer's youth, but otherwise his most notable roles are still ahead of him, including a romantic lead role in the Miley Cyrus vehicle LOL and playing Pip in an upcoming TV miniseries adaptation of Great Expectations.
Booth is by far the least-known member of the cast so far, led by True Grit's Steinfeld and including Holly Hunter as Juliet's nurse, Let Me In's Kodi Smit-McPhee as Romeo's best pal Mercutio, and Gossip Girl's Ed Westwick as Juliet's mercurial cousin Tybalt. This will be the first English-language adaptation of the Shakespeare play since Baz Luhrmann's in 1996, and possibly featuring the youngest stars since the Franco Zeffirelli version in 1968; that film was re-rated to PG thanks to nude scenes featuring 15-year-old Juliet Olivia Hussey. Who knows if Steinfeld will also be revealing as much--the 60s were a different time, after all-- but this version of the famous story seems pretty insistent on being true to the teenage characters that Shakespeare wrote, and with the sex and suicide that are a key part of the story, nudity may be the last thing to worry about here.
Your Daily Blend of Entertainment News
Staff Writer at CinemaBlend