Vampyres Trailer: The NSFW European Lesbian Vampire Story You've Always Wanted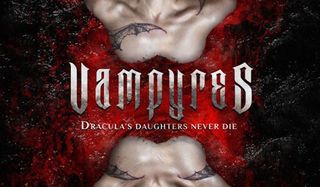 Warning: The following trailer is of the NSFW variety. It contains blood, boobs and a whole lot of weirdness. Watch at your own risk.
In recent years, we've practically seen vampires from every angle. The sparkle motion loved-up vampires of Twilight, the hormone addled rebels of Vampire Academy and the recent reimagined literary classics of Dracula Untold. One vampire that has yet to be covered however, is the seriously NSFW sex fuelled blood lusting kind, a gap that Victor Matellano's Vampyres is looking to fill.
Watch above and you'll see that this trailer is bloody dark. There's no holding back on the sex and violence as women go at it in a lesbian ménage a trois, people stumble through the woods in their underwear and, for the glorious finale (at 1:30), the two vampish female leads make out beneath the dripping blood of a hanging corpse, their latest victim.
I mean, how's this for a killer synopsis?
Of course, Vampyres isn't an original movie idea, having been resurrected from Jose Larraz's 1974 cult classic. When news broke that the Gothic horror/softcore porn feature would be dragged, bloodied and screaming, into the 21st century, many horror fans were quick to cry, "Not another remake!" Their reservations were somewhat curtailed with the fact that Larraz, who died in September 2013, took part in the pre-production of the new movie, but how disgustingly delicious is the trailer?! It's sensual, gruesome, twisted and even darker than the original. Even the poster is a whole load of WTF.
As for cast, Dread Central reports that the remake has enlisted the talents of Marta Flich as Omnivores and Almudena Leon as Wax, as well as Christian Stamm in the role of Ted and scream queen Caroline Munro. There's still no release date to speak of, but we'll keep you posted on whether this onscreen orgie ever lands US distribution.
Your Daily Blend of Entertainment News
Thank you for signing up to CinemaBlend. You will receive a verification email shortly.
There was a problem. Please refresh the page and try again.