Van Damme's Mainstream Comeback May Start In Dragon Eyes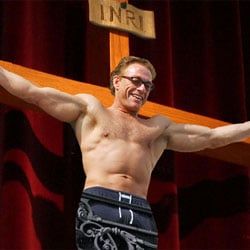 You may not have seen him for awhile, but Jean-Claude Van Damme has been working pretty steadily. Some of it has even been interesting. Note I didn't say good, or in any way mainstream. But interesting. Now that The Expendables have made aging action stars viable box office draws again, it's seemed sort of inevitable that Jean-Claude would get back into the mainstream eventually. For instance, we've heard rumors that JCVD might show up in Expendables 2, but it looks like he won't wait on Stallone to make his mainstream return. The Muscles from Brussels is going to work for super-producer Joel Silver.
Silver, producer of projects like Sherlock Holmes, Kiss Kiss Bang Bang and The Matrix, is working on an action movie called Dragon Eyes. What's Playing says Silver wants Van Damme in it.
The movie is about a young man who teams up with gangs to rid New Orleans of corrupt cops. Obviously, Van Damme won't be playing the lead role there. Up and coming fighting star Cung Lee is pegged for that. JCVD would fit in as the movie's villain. They've got an offer out to him, and if Dragon Eyes' timing doesn't clash with the Expendables sequel, then it sounds like Van Damme is in.
The main thing here is that since it's a Joel Silver movie, it'll be mainstream. Silver's not exactly into foreign territories or limited releases. Where Silver goes, big studio money follows. He's a proven commodity, and if JCVD is in it, that'll mean he's being launched back into the spotlight. About time.
Your Daily Blend of Entertainment News
Thank you for signing up to CinemaBlend. You will receive a verification email shortly.
There was a problem. Please refresh the page and try again.