Wait, Disney Has Sold How Many Frozen Princess Dresses?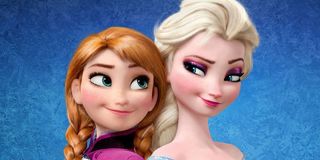 This Halloween you may have noticed a certain trend in girls' Halloween costumes: a storm of little girls dressed as Frozen's Elsa and Anna. Not too surprising when you consider the world-gripping popularity of the progressive princess musical. But when you hear how many Frozen role-play dresses have actually been sold, we'll forgive you for being flat-out shocked.
The New York Times (via Yahoo) reports more than 3 million Frozen role-play dresses have been sold. And that's just in North America since the film's release. 3 million. That means more people own Elsa and Anna dresses than live in Mississippi, Maine or Hawaii. Prices for these dresses range from $49.95 to $99.95, with accessories costing extra. But Disney is declining to reveal how much money Frozen dress-up has banked the company.
The National Retail Federation reports that 3.4 million children dressed up as princesses this Halloween, while about an estimated 2.6 million kids dresses specifically as characters from Frozen. While Elsa and Anna might be battling for the most popular girl costume this year, the most popular boy costume is also a Disney licensing property: Spider-Man.
The Wall Street Journal shared some surprising news when it comes to the popularity of Frozen dolls: Elsas outsell Annas two to one. And when it comes to those role-play dresses, it's Elsa's that come in at number one, with little sister Anna following behind at #2. At first blush, this seems strange, considering Anna is Frozen's main character, getting more screen time and more songs. But then you consider Elsa can do this:
Elsa's not just a princess. She's a queen. And basically, she's a superhero. Even Spider-Man can't build his dream home with the powers of his weather-bending. And can he do it while belting out one of the most popular movie anthems of all time? That's a big fat nope.
But don't cry for Anna. "Anna is holding her own just fine," executive vice president of Disney retail Paul Gainer explains, "Both girls are above and beyond all the other princesses."
It's out of theaters, but still Frozen's holding strong. It's been nearly a year since it opened. And look at us. We still can't...
So, what'd you dress up as this Halloween?
Your Daily Blend of Entertainment News
Staff writer at CinemaBlend.