Wait, James Bond Is Getting A Broadway Musical?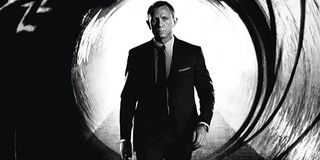 It appears that shaken, not stirred martinis will soon be served on the Broadway stage to a certain irresistibly debonair dealer of deadly justice. Yes, the venerable cinematic secret agent, James Bond, will soon bring his destructive woes to the Great White Way, with plans currently in the works for a musical adaptation based on Ian Fleming's super spy.
According to Playbill, production company Placeholder Productions acquired the rights for the spy-centric stage production, which touts the succinct title, James Bond: The Musical. While things are still in the earliest of development stages, the plan is to have the show tuned and ready for an opening in either late 2017 or early 2018.
The musical will actually be the product of a historical Bond legacy, since the executive producer, Placeholder's, Merry Saltzman, is the daughter of legendary producer of the esteemed early Bond films, Harry Saltzman. The show-tune-twisted take on the James Bond franchise will work off a story by author Dave Clarke, who wrote the time-travelling 2008 romance novel, Keeping Hannah Waiting, along with a musical score by veteran country composer, Jay Henry Weisz. Things are apparently at a stage too early to name cast members, or, for that matter, other key creative personnel.
As the producers tell Playbill, James Bond: The Musical will use an original story in its attempt to unleash the essence of the Bond franchise onto the stage. Apparently, the show will use what is described as "several" Bond villains, however, it will also debut some original rogues, along with a new Bond girl exclusive to the show. Based on what has been seen with other notable musical adaptations of venerable, storied properties with a broad mythology, like 2011-2014's legally and logistically embattled Spider-Man: Turn Off The Dark, this show could take shape as a zeitgeist-zipped pastiche of iconic elements from the Bond franchise, cobbled together as a tribute of sorts to the overall franchise.
The character began life in 1953 as the suave protagonist of Fleming's 14 original novels, and later the persistently recurrent film series, which will soon see a 24th official addition with this fall's release of Spectre. This latest manifestation could see the Broadway stage lit up with a new kind of dynamic that seduces several exotic women to Bond's bed, while making his elaborate array of enemies dead. With ranks of existing Bond villains being utilized, we could see new renditions of evil icons like Jaws, Oddjob, Goldfinger, Baron Samedi, and, in the most likely example, the elusive, cat-caressing SPECTRE mastermind, Ernst Stavro Blofeld. Sure, there's a distinct possibility that they'll be awkwardly singing as much as fighting, but it nevertheless sounds like an intriguing proposition.
Regardless of whether or not the stage is your preferred arena for Bond action, Daniel Craig returns as the suave super spy in Spectre when the film hits theaters on November 6.
Your Daily Blend of Entertainment News
Thank you for signing up to CinemaBlend. You will receive a verification email shortly.
There was a problem. Please refresh the page and try again.