Warner Bros. Has Nine More DC Movies In Development After Justice League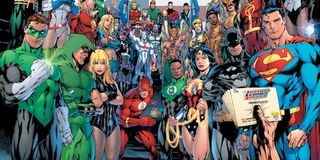 And with Justice League of America, it begins.
The WB is going to start expanding the DC wing of its considerable media library, a way of offsetting a recent downturn in profit and the loss of the Harry Potter movies. The vast collection of characters are ready to be set loose following Batman vs. Superman and Justice League of America, but just in what aspect?
The Wall Street Journal broke the news of the latest superhero team-up, and now they're revealing exactly how the company will act moving forward. And thus far, the claim is that Justice League will lead nine more movies into active development. What this means might not be much; not all of those nine films will be made, and some will be replaced by other film ideas in the pipeline for DC and the WB. Justice League of America is potentially three years away, at best, which means "in development" could simply mean "being talked about around the watercooler." But it's a start, for a studio that hasn't been certain as to what they've wanted from their comic book wing.
The article also suggests that Chris Nolan, architect of the Dark Knight series, "didn't work within a larger DC strategy" and will no longer do any further superhero films after producing 2013's Man of Steel. There's no doubt DC's strategy has been heavily delayed, to a borderline embarrassing extent: DC has only those two films announced, while Marvel has release dates for their next six films, with plenty of other characters set up to go.
Of course, the shared universe is really what Marvel boasts over DC. The article claims that DC Entertainment President Diane Nelson has been encouraged to "develop diverse and even contradictory takes" on classic characters. While Zack Snyder's Justice League of America will be part of a larger universe, it looks like the television branch, which includes the upcoming Gotham, will stand alone, as will other deals like the ones that placed DC characters in The LEGO Movie. Ultimately, this could mean Marvel wins the onscreen race, but a more diverse portfolio would potentially give DC the upper hand.
So what are these nine movies? The Wall Street Journal doesn't spell it out, but you can guess at what DC has in-store for their Justice League of America participants. Superman and Batman will likely get another shot, and it would be foolish to not try Wonder Woman. Maybe more Green Lantern, or perhaps the Suicide Squad? Maybe non-Leaguers like Lobo or Shazam will get a shot, along with edgier material like Joseph Gordon-Levitt's Sandman. Maybe Guillermo Del Toro's Justice League Dark is a possibility. Maybe Fables gets a shot, or maybe the WB finally checks out that beloved Super Max script that features Green Arrow.
Which DC property do you see reaching the big screen after Justice League?
Your Daily Blend of Entertainment News