Warner Bros Really, Really Wants To Adapt The Best-Selling Novel The Goldfinch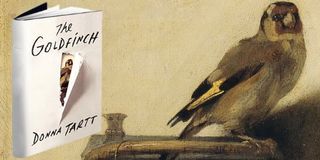 This is a bit of an unusual story. Most of the times when we mention a movie studio and a novel in the same article, it's to announce that a studio has scooped up the rights of a novel, often one that is best-selling and/or penned by a hot author. However, Warner Bros is only circling the movie rights to celebrated The Goldfinch because author Donna Tartt is reluctant to sell.
Variety reports that Warner Bros. has put in an offer to Donna Tartt's agents at ICM Partners, attempting to lock down the rights that would allow them to adapt the Pulitzer Prize-winning novel The Goldfinch into a feature film. However, the deal is far from done. The Wrap reports Tartt isn't seeking a major payday as much as she is insisting on some creative involvement in the could-be movie. This is noticeably a power that EL James was granted in the development of Fifty Shades of Grey, Gillian Flynn was given for Gone Girl, and J.K Rowling had with the Harry Potter franchise. But this is just one of Warner Bros's obstacles in selling the studio's plea to Tartt.
See, before Warner Bros. came calling, ICM Partners was looking to sell the book's rights to networks execs as a potential miniseries. (Hell, it's working for Game of Thrones and The Leftovers.) For WB to land The Goldfinch, they'll need to convince Donna Tartt that her book's tale could be properly told within the confines of a movie and its considerably shorter running time.
The Goldfinch centers on thirteen-year-old New Yorker, Theo Decker, whose life is thrown into a downward spiral when an explosion at the Metropolitan Museum spares him, but kills his mother. His father has fled, and so he is sent to live with the family of a wealthy friend. But affluence and a Park Avenue address can't soothe his grief or ease the transition to a new school full of students who don't know what to make of him. But Theo finds solace and trouble in a painting called "The Goldfinch." From there, he'll have to reconnect with his absentee father.
Tartt's best-selling book is over 700 pages long; it's story takes place over two decades. And The Goldfinch's author is clearly concerned that it be told for the screen as she sees fit. Notably, this marks Tartt's third novel. Though neither of her first two (The Secret History and The Little Friend) have been produced into movie adaptations of their own, that's not for lack of WB trying.
The 1992 novel The Secret History had its movie rights bought by Warner Bros. before it even hit bookshelves. Years later, the studio teamed with Miramax, and brought Gwyneth Paltrow and her brother Jake Paltrow on board to produce. Of course, it's 2014 and this movie still hasn't been made. Perhaps this stunted adaptation plays a part in Tartt's hesitancy to ink a deal with Warner Bros?
We'll bring you more on this story as it develops.
Staff writer at CinemaBlend.
Your Daily Blend of Entertainment News
Thank you for signing up to CinemaBlend. You will receive a verification email shortly.
There was a problem. Please refresh the page and try again.