Was Taylor Swift Doing A 10 Things I Hate About You Tribute At The Grammys?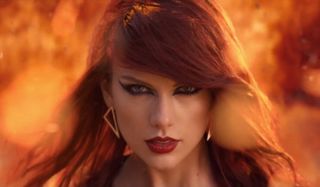 Last night the world of music celebrated the likes of Taylor Swift, Hamilton, and Kendrick Lamar at the 2016 Grammy Awards. The only film to really be honored at the event was Asif Kapadia's rather fantastic documentary about the life of Amy Winehouse, Amy. But, eagle-eyed fans might have noticed that both Taylor Swift and Selena Gomez seemed to pay homage to the exquisite 1999 teen comedy 10 Things I Hate About You at the ceremony, through their choice of attire. Need proof? Check out the below.
OK, there's every chance that Taylor Swift might have just accidentally doffed her cap to the prom dress worn by Larisa Oleynik's Bianca Stratford in 10 Things I Hate About You on Monday night at the Grammy Awards. The color scheme is identical, even if the style on Taylor Swift is far more up to date. To be honest, though, I often find myself unintentionally dressing like Larry Miller, from the same film. So there's that.
But, it was the fashion choice of Taylor Swift's BFF Selena Gomez, who joined the Shake It Off singer on the red-carpet for press commitments, that really exacerbated the theory. That's because the Spring Breakers actress donned a purple dress for the Grammys that looked remarkably similar to the one worn by Julia Stiles' Kat Stratford in the same film.
Trae Patton/CBS ©2016 CBS Broadcasting, Inc. All Rights Reserved
As the below picture proves, there were some rather striking similarities between Julia Stiles' outfit in 10 Things I Hate About You and that of Gomez's on Monday. However, there obviously wasn't anyone in attendance that came anywhere near to matching the coolness of Heath Ledger. Not even Ryan Seacrest.
The above image might leave you with the impression that the coloring is much different between Gomez and Stiles' dresses. However, the below clip from 10 Things I Hate About You, which features an adorable Joseph Gordon-Levitt, is proof that they were actually very similar indeed.
It would be hardly surprising if both 26-year-old Taylor Swift and 23-year-old Selena Gomez did pay tribute to 10 Things I Hate About You on Monday. They were both at the perfect age to be swept up in the 1999 cult rom-com. Obviously, the only way they'll really ever prove their devotion to 10 Things I Hate About You, though, is if they release a cover of "I Want You To Want Me." Which would almost certainly be... awful? Incredible? We really won't know until we hear it, ladies, so get busy.
Your Daily Blend of Entertainment News
Thank you for signing up to CinemaBlend. You will receive a verification email shortly.
There was a problem. Please refresh the page and try again.