Watch This Adorable 5-Year-Old Girl Critique Princess Leia's Slave Costume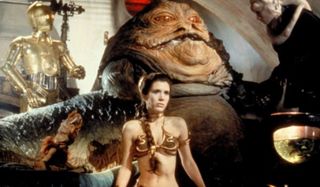 Princess Leia's slave costume may be tiny, but it has become an iconic outfit from the series. Although, the reasons that the metal bikini became so popular are not exactly the same reasons that this 5-year-old-girl likes it so much. Watch this animated clip of a daughter and her father's conversation about Star Wars turn into a fashion discussion.
As you can imagine, the video caused some backlash. Here is a young, naive child taking a liking to what has become known as the most demeaning costume in Star Wars. And it was purposefully supposed to be degrading. It was Jabba the Hutt's own creepy way of making Leia his slave. The daughter adds:
The father, YouTube user AdamBuxton, dimes in, asking if the child has ever heard of the word "demeaning" which she doesn't, and she stands by her opinion saying that she would actually like that outfit, sans the metal chain. This is a 5-year-old kid. She probably plays with Barbie dolls and watches cartoons like Dora the Explorer(which in case you didn't know, got a new, sexier look recently). I doubt she knows why this outfit upsets many women, because of the over sexualized nature of it. But regardless of how skimpy and inappropriate the outfit is, people seem to forget that it was supposed to be that. Leia was Jabba's slave. He chose an outfit to demean her, to make her feel ashamed and low. It was oversexualized, yes, but it fulfilled it's purpose in Jabba's eyes.
Some of the comments on this video were from users who were upset. Upset that a young girl would find an outfit like this pretty and wearable. And while I do understand that, I wouldn't go so far to call this anti-feminist, or that there is a problem with the kid. She knows what she likes. And even after her father explains that the majority of people don't feel the same, she sticks by it, strong in her opinion and not caring about what people think about the outfit. She finds the dress pretty and nice. I don't think she even knows what sexy is yet. It's about the tiara and the bands, and these, this, and that. Her mind has not yet been clouded with societal correctness, it's just her own opinion. This little girl is awesome.
Also, it's totally great to see a dad teaching his young daughter about the world of Star Wars. I hope she gets to see Star Wars: The Force Awakens when it hits theaters December 18, 2015, so we can get some more blunt and honest opinions on the fashion choices of the film.
Your Daily Blend of Entertainment News
Thank you for signing up to CinemaBlend. You will receive a verification email shortly.
There was a problem. Please refresh the page and try again.