Dora And Diego Take Over This Week's PSN Update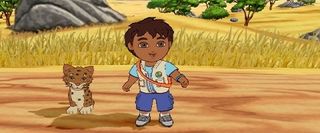 It's the week we've all been waiting for on the PlayStation Network, so long as "we've all" is referring strictly to my adolescent niece and nephew. Along with a handful of other digital releases, this week marks the released of five new PlayStation 2 Classics, including three Dora the Explorer games and two Go Diego Go! titles.
Now that the PlayStation 2 has been buried, the best way to enjoy the best titles that console has to offer is through the PlayStation Network's PS2 Classics Collection. This week, five games are being added to that list, all strictly targeted at a younger audience.
Dora the Explorer: Dora Saves the Crystal Kingdom will be joined by two other Dora games, Dora Saves the Mermaids and Dora Saves the Snow Princess. Dora saves a lot of people, it would seem. Complementing those young lady-friendly games will be a pair of titles for the pre-teen dudes in the audience, including Go Diego Go! Great Dinosaur Rescue and Safari Rescue.
But don't fret, older gamers. While it's likely you won't be jumping at the chance to control the world's most helpful bilingual heroes, there are quite a few games hitting the Network that might pique your interest.
Along with the digital release of Demon's Souls, you'll also be able to grab Rise of the Guardians, Lord of the Rings: War in the North and Dance Magic this week. Vita owners will also be able to pick up Earth Defense Force 2017 Portable, a download-only title that lets you take part in co-op giant bug killing.
Look for these games and all sorts of other content to hit the PlayStation Network as soon as the store update goes live this Tuesday afternoon.
Your Daily Blend of Entertainment News
Staff Writer for CinemaBlend.