What Sony Has To Say About That Spider-Man / Aunt May Movie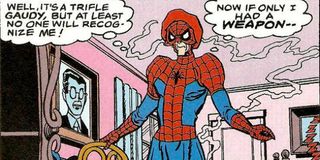 Back in The Amazing Spider-Man 2, she was accused of being a "laundry sheriff." Then came rumors that Peter Parker's Aunt May (played by Sally Field in these new movies) might be getting her own solo standalone movie – a prequel that would explore May's past while also helping Sony retain the rights to the Spider-Man characters and franchise. The Internet, um, lit up in response to that speculation. But the studio's tossing cold water on that raging Web fore before it goes too far.
When reached for comment on the possible Aunt May movie, a source at Sony told Comic Book Resources that the story is a "silly rumor" that has "no validity whatsoever." Could that be more smoke and mirrors? Is it possible that Latino-Review, which first reported the story, got it wrong? Or is an Aunt Man movie only one of many possibilities in play at the studio as they try to pick up the pieces after The Amazing Spider-Man 2 and choose a direction for this superhero franchise?
All of those are possibilities. Sony has to be looking at their rivals at Marvel, DC/Warner and even Fox (which has righted the X-Men ship) and feel a pang of jealousy because their Spider-Man franchise might have hit a wall. As much as I enjoyed The Amazing Spider-Man 2, it's clear that audiences weren't interested in the OsCorp mythology, and Andrew Garfield's Spider-Man story needs to go in a different direction. We even dedicated an episode of Hero Blend to this very conversation:
So far, we know that Drew Goddard (of The Cabin in the Woods) is working on a Sinister Six movie. And there have been talks of a Venom film that Alex Kurtzman would helm. After that, rumors have circulated that Sony wants to do a female-driven spin on a Spider-Man story, with female characters from that universe. No specific names were mentioned, and the Aunt May story sort of fit that mold.
Until Sony shot it down.
So we are back to square one on Spider-Man's franchise, despite the fact that The Amazing Spider-Man part 3 has an announced release date. Did anyone out there like the idea of an Aunt May movie? Are you sad the concept might be dead before it even launched?
Movie junkie. Infatuated with comic-book films. ReelBlend cohost. Resident dad. Extroverted introvert. Wants to see the Snyder Cut. Managing Director at CinemaBlend.
Your Daily Blend of Entertainment News
Thank you for signing up to CinemaBlend. You will receive a verification email shortly.
There was a problem. Please refresh the page and try again.