Watch Hot Tub Time Machine 2 Hilariously Predict Jon Stewart Leaving The Daily Show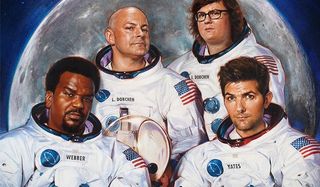 Upcoming time-tinkering comedy sequel, Hot Tub Time Machine 2 is now officially getting ridiculously scary in its topical timeliness. The latest bit of practical prognostication from the spa-soaked series has freakishly made a prediction about the impending exit of Jon Stewart from The Daily Show that seems to have, appropriately enough, plucked the piece directly from headlines of what was, at the time of filming, the near future, which is currently our present. How the hell could they have possibly known that this topic would be in discussion?
In an exclusive clip of the upcoming film released to Uproxx, we see Craig Robinson's Nick, Rob Corddry's Lou and Clark Duke's Jacob in a setting one whole decade in the future. The gang, clearly taking some time away from their plot-fueling dilemma to watch a future episode of The Daily Show, manage to learn from the show's intro that they are currently in 2025. However, as the futuristic holographic projection television image shows, the person sitting behind the anchor desk is not Jon Stewart, but, rather, current correspondent Jessica Williams. Also, that Neil Patrick Harris is the president of the United States. (A scenario I could only guess occurs when voting rights in national elections are given exclusively to people on Reddit.)
Now, don't get me wrong, the idea that Jon Stewart would have stepped down from The Daily Show desk by a point in time that would have been 26 years after he initially took the gig is not a bold prediction. Likewise, the idea that a current correspondent like Williams would inherit the mantle is also hardly an outrageous divination. However, HTTM2 seems to be hitting the topical talking points of the future with an accuracy that almost seems to break the film's fourth wall. Coupling that with the film's plot, which has the gang using their time-bending bubbler to take credit for creative achievements in the past to make themselves rich, the timeliness of jokes almost becomes the unintentional joke in its own right.
This idea also actually plays to a pattern. Just a few weeks back, HTTM2 would drop a Super Bowl ad showcasing a joke that freakishly seemed to reference the "DeflateGate" controversy. It kind of makes you wonder if we exist in an altered tangent of time and space in which the Hot Tub Time Machine film series is occupied by a completely different cast of comedians…and Biff Tannen has turned Hill Valley into a seedy urban dump centering on an obnoxious casino. Or it could just be a humorous series of coincidences that will generate some interesting press for this most unlikely of comedy sequels, which has the misfortune of opening a mere week after Fifty Shades of Grey will undoubtedly see guys who might have seen HTTM2 get dragged away to another wing of the theater for a type of rough, ribald romp that the Internet has been providing free of charge for years.
Hot Tub Time Machine 2 makes a hilariously hydrotherapeutic debut at theaters on February 20.
Your Daily Blend of Entertainment News