Watch Kylo Ren Freak Out About Everything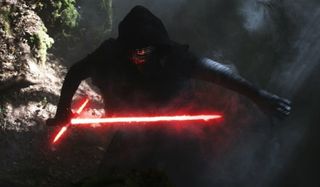 Star Wars: The Force Awakens has finally blasted its way into theaters, balance has been brought to the force, and pretty much everyone is happy – well, almost everyone. Adam Driver's Kylo Ren proved more than a little prone to fits of rage in the most recent adventure in a galaxy far, far away. Some savvy Star Wars fans have taken a cue from these outbursts and created a new animated video showing the Star Wars villain struggling to cope with everyday situations. Check it out below.
The video is animated with the pixel art style of classic arcade video games, and features Ren merely trying to live a normal life in the Star Wars universe. Throughout the clip he encounters numerous annoyances, such as no good seating at a restaurant, Draft Kings commercials on his favorite podcast, and his therapist asking for his co-pay at the end of one of their sessions. Each and every time the villain encounters one of these scenarios, he pretty much responds in the exact same fashion: drawing his cross guard lightsaber and destroying everything in his path while screaming his frustrations.
Anyone who has seen The Force Awakens already knows the parts of the film that this video is parodying. Kylo Ren is not the strong, silent type like Darth Vader; he's young, brash, immature, and generally more erratic than the Sith Lord who preceded him as the franchise's big bad. Overall this distinction has proved polarizing. Some fans have praised Driver's portrayal of the character because it's poignant and different from what we have already seen in the series, while others find him whiny and annoying, drawing comparisons to Hayden Christiansen's angst-filled portrayal of a young Anakin Skywalker. Another Star Wars fan even went to far as to create a parody Twitter account for Kylo Ren, poking fun at his "Darth Millennial" persona that divided so many fans on his characterization.
No matter what your opinion on Kylo Ren, or Adam Driver's performance, is, the fact of the matter is that the video above is absolute gold. Definitely give it a watch if you haven't already – or watch it again if you have. While the character has split fans of the Star Wars franchise right down the middle, the fact remains that The Force Awakens has started us out on a new course, and only time will tell if Kylo Ren matures in any major fashion, or continues to be the young, impetuous villain from this film.
Your Daily Blend of Entertainment News
Originally from Connecticut, Conner grew up in San Diego and graduated from Chapman University in 2014. He now lives in Los Angeles working in and around the entertainment industry and can mostly be found binging horror movies and chugging coffee.