Watch The Rock's On-Set Video Get Hilariously Ruined By Kevin Hart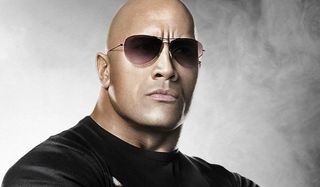 If you're an Instagramaholic, by now you'll be fully aware of just often The Rock keeps his fans updated with his antics. The wrestler/acting phenomenon always makes sure to upload posts whenever he's onset, which has certainly been the case while he's been working on Central Intelligence with Kevin Hart. And this might be his funniest post yet, because it features the two actors joking around in a downright hilarious manner. You can enjoy below. WARNING: The below video features very explicit language.
Don't you just wish you could instantly become BFFs with The Rock? Fair play for Kevin Hart too for at least attempting to go toe-to-toe with the humungous action actor. Even though I'm pretty sure that if their words had led to a physical altercation he would have wisely decided to back down.
What the above video also gives us is a sneak-peak of the camaraderie shared between the leading actors, and it suggests that Central Intelligence is going to possess some pretty impressive patter. Not only were The Rock and Kevin Hart able to deliver the lines of "Here we are shooting Central Intelligence. They shut it down. The firetrucks are here," on cue, but they then erupted into a great sparring battle.
Central Intelligence isn't due out until June 2016, but because of The Rock's constant social media presence, a quiet buzz has already started to generate for it. And there's every chance that it could be one of the sneaky hits of next summer, thanks to its hugely popular leading pair and appealing set-up.
New Line are envisioning the film as the start of their very own Jump Street franchise. Dwayne Johnson plays a CIA contract killer who contacts a former high school sports star classmate who is now an accountant (Kevin Hart), just ahead of their high school reunion. Johnson's character was bullied in school, but he's now emerged as a bona-fide beast, and he tries to get Hart's character to assist him in his plot to stop the selling of military secrets.
Currently, Kevin Hart and Dwayne Johnson are two of the hottest commodities in Hollywood, and their pairing would suggest that Central Intelligence will be a worthy, original addition to next summer's packed slate of sequels and superhero tales. It also helps that We're The Miller's director Rawson Marshall Thurber is overseeing it, and all-round funny guy Ike Barinholtz co-wrote the script with David Stassen and Peter Steinfeld.
Central Intelligence will be released on June 17, 2016. But if you're pining to see a sneak peak of The Rock working on a stunt for the comedy, then take a click onto the next page.
Your Daily Blend of Entertainment News