Watch A Star Wars Fan's Impressive Customized Imperial Speeder Bike In Action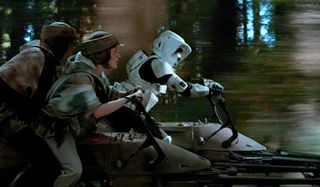 Have you ever wondered what it might be like to ride upon a speeder bike? Well, wonder no more as we can now all have a front row experience thanks to an avid Star Wars fan who built an impressive, customized imperial speeder bike and shot this cool little video complete with first person P.O.V. Check it out below.
The speeder bike chase with Luke Skywalker and Princess Leia and the Scout Troopers in Return of the Jedi may have a few more thrills, due to a little help from Star Wars creator George Lucas, director Richard Marquand and their special effects teams, but the above video of the miniature drone speeder bike is still pretty darn cool. We can all admit, for a short moment in time, we were able to imagine what it would be like to weave in an out of the way of passing trees, maneuvering in the last second so as to force the enemy to crash full speed ahead into a fiery explosion. Okay, maybe it was just me.
The man behind this amazing little toy—one that we'd love to see eventually lining Toys 'R' Us shelves—goes by the name of Adam Woodworth. He fashioned it using a 1:6 scale, 12-inch Hasbro Power Of The Forces series Speeder Bike and a modified lightweight Scout Trooper. He installed tiny motors and rigged the figure's helmet with a tiny camera so we could get the first-person viewpoint, one of the toy's finer components. The little speeder bike replica can be flown like any other radio-controlled drone, meaning the controller is given ability to see directly from the Scout Trooper's point of view. Check out the full play-by-play of Woodworth's entire project from start to finish here. The self-proclaimed "aviation nut" has already ordered a Luke Skywalker figure so we can one day hope to see a recreation of the classic Endor chase scene from Jedi.
Star Wars: The Force Awakens is coming later this year. With a late December release, we're bound to see all sorts of cool fan-made materials popping up from now until the big day. Let's also not forget that we've got the Star Wars Celebration taking place at the Anaheim Convention Center on April 16. That event, which has scheduled appearances by writer/director J.J. Abrams and Lucasfilm president Kathleen Kennedy, will most certainly leave fans with a few things to talk about. Details on what exactly fans can expect at that event have been kept quiet but it has been announced that it will kick off "in a big way," so we'll be interested to see what will be revealed.
Star Wars: The Force Awakens hits theaters Dec. 18.
Your Daily Blend of Entertainment News
Thank you for signing up to CinemaBlend. You will receive a verification email shortly.
There was a problem. Please refresh the page and try again.