This Week In Home Entertainment: Maleficent, Hercules And More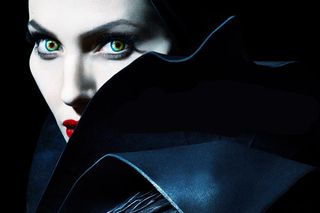 Now that we've officially passed the Halloween hump and put a slew of seasonal horror releases behind us, the studios have plenty of Christmas titles they are already pumping and dumping this year. But don't worry. There are some big releases, too, starting with Disney's blockbuster, Maleficent, which you can check out, below.
Maleficent Blu-ray
Maleficent's story is a powerful one, ripped straight out of the heart of the Disney canon in order to focus on a traditional villain, rather than a hero. However, while Maleficent offers us a retelling of one of Disney's most popular characters, it doesn't deliver on the villainous premise many fans were hoping for.
Early on, Maleficent follows a young fairy living in the moor outside of a larger kingdom. Things are beautiful and well-kept in the Moor, which is where a lot of that fancy and sparkling outdoors footage that appeared in the trailer stems from. However, while Maleficent has a charmed childhood, things are about to grow dark for fairy. However, the older Maleficent (Angelie Jolie) is betrayed by her human love Stefan (Sharlto Copley), leading her on a rage spiral that twists the story of Sleeping Beauty into one of untimely friendship between Maleficent and Aurora (Elle Fanning), along with ultimate love.
Jolie is regal in the role, and her character's arc is a believable one that will still be disappointing for those who are expecting to see the rise of a vicious villain. For everyone else, the lesson-filled narrative offers a fun story and more than competent design and world-building. The spectacle in Maleficent is lush, fantastical and well-earned. It's a visual masterpiece with a sometimes bumpy plot that is, nevertheless, enjoyable.
You can order Maleficent over at Amazon.
Special Features: It's a good thing that Walt Disney Home Entertainment has fans of all ages, because the extras on the Maleficent Blu-ray are kind of a mess. There are some deleted scenes that don't do anything to further the plot and a bunch of nicely put-together behind-the-scenes extras that will bore your kids to tears. There's a segment that looks at the Maleficent character, as well as another that looks at the fashion in the movie. Usually Disney is great about putting together a few behind-the-scenes segments for adult fans alongside a few fun extras for kids. Without animation, it's apparently a lot more difficult.
List of Extras:
"Aurora: Becoming A Beauty"
"From Fairy Tale to Feature Film"
"Building an Epic Battle"
"Classic Couture"
"Maleficent Revealed"
Deleted Scenes
Hercules Blu-ray
Dwayne Johnson is a perfect vehicle for an action movie like Hercules. He's hulking, and he's particularly good at acting for a man who started his career as a professional wrestler. In Hercules, he has Rush Hour 2 director Brett Ratner on board to film him in a loincloth, running around and destroying monsters and bad guys alike. It's all pretty ludicrous, although refreshingly less silly than you would guess, even when Johnson is rocking a lion's pelt as a costume. Really.
What wears thin in Hercules is the plot, which follows the Greek Demigod (Johnson) and a crew of loyal warriors (Ian McShane, Rufus Sewell, Aksel Hennie, Ingrid Bolsø Berdal, Reece Ritchie) to train the Thracian armies against a warlord named Rheseus (Tobias Santelmann). Complicating matters is the complex leader Lord Cotys (John Hurt), a slew of monsters and Hercules' own backstory. It's a little hard to keep up with, but luckily, all of the action and training sequences should distract everyone from thinking too hard.
In fact Hercules' merry band of team members is kind of Thor-esque in many ways (although less amusing), and lovers of that sort of fantasy action film might find a lot to like with Paramount Home Media Distribution's bonus feature-filled set, which also comes with an Extended cut of the film. You can order Hercules over at Amazon.
Best Special Feature: Don't bother with the Brett Ratner and Dwayne Johnson jerk-off feature. Instead, skip ahead to the "Weapons!" extra, which uses an exclamation point with reason. Daggers, huge execution actions, and a giant-ass club are shown, most of which belong to Johnson and are startlingly large, especially when held by the much-small prop-master. Some of the deleted and extended scenes are pretty cool, too, but the "Weapons!" extra almost makes me feel like I am learning something historical." Almost.
Other Extras:
Extended cut of the film
"Brett Ratner and Dwayne Johnson: An Introduction"
"Hercules and his Mercenaries"
"Weapons!"
"The Bessi Battle"
"The Effects of Hercules"
15 Deleted/ Extended Scenes
The Sopranos: The Complete Series Blu-ray
During its time on air, The Sopranos was regarded as one of TV's best and brightest dramas, providing fans with six seasons worth of mob-related stories in New Jersey and focusing in on the titular family. Tony. Carmela. Meadow. Anthony, Jr. This week, HBO Home Entertainment released The Sopranos: The Complete Series on Blu-ray for the first time, in a set that comes with a few bells and whistles and tiny packaging.
The Sopranos was shot over an extended time period and as such, the Blu-ray transfer isn't as consistently nice as it could be. The episodes shot in 1999 obviously originally looked a lot worse than those shot at later dates, and while it's not super noticeable for those who aren't looking for it, it's definitely not a reason to go out and trade your DVD copy for the also-expensive Blu-ray version of The Sopranos.
Mostly, the set is a Blu-ray bundling of each of the individual season sets that are already available. Each of the seasons offer their own sets of extras (things like audio commentary and deleted scenes), but each season has been repackaged into a new Blu-ray box focusing on a close-up shot of a different lead in the series. The look and feel of the set isn't quite as nice as some of the DVD sets that are available, but it's certainly a tidy, square Blu-ray box that won't take up a ton of space (definitely more innocuous than the content inside). It also comes with a bonus disc featuring a few extras that are worth a watch.
You can order The Sopranos: The Complete Series over at Amazon.
Best Special Feature: "Supper with The Sopranos" is the best bonus feature. It's actually shot in two parts around a dinner table, featuring prominent members of the cast and production team. Part 1 has Terence Winter, David Chase, Robert Iler, Aida Turturro and others. The second supper includes Edie Falco, Alan Taylor, Steven Van Zandt and Matthew Weiner. These were included with an earlier Complete Series DVD set, but they go into detail about the hullabaloo surrounding the finale, as well as tons of other issues related to the series. They are great, frank discussions for fans, and if you didn't catch them the first time around, we suggest giving "Supper with The Sopranos" a whirl.
Bonus Disc Extras:
"Defining a Television Landmark"
"Supper with The Sopranos"
"Lost Scenes"
"Alec Baldwin Interviews David Chase"
Other November 4 Releases
HBO's The Newsroom is finally gearing up for its third and final season on HBO. It's been well over a year since The Newsroom graced us with new episodes, but Aaron Sorkin's drama is hitting the schedule at a later point in the year, and HBO's set has been forthcoming. With new audio commentaries and deleted scenes, the usual, impeccable packaging HBO is favorably known for and a season that is pushing forward at a more interesting pace then Season 1, there are definitely worse ways to spend a weekend than by plowing through The Newsroom: The Complete Second Season.
You can check out some more of this week's releases, below. As noted in the introduction, we're starting to get Christmas releases, too, which is either good news or bad news, depending on how you personally feel about the holiday. Unless otherwise noted, sets are available on both Blu-ray and DVD.
A Most Wanted Man
The Newsroom: The Complete Second Season
A Most Wanted Man
Sherlock: Limited Edition Gift Set
A Merry Ingalls Christmas DVD
The Unauthorized Saved By The Bell Story DVD
Step Up All In
The Dog
Tru Love
Holiday Family Classics: The Thanksgiving Treasure and The House Without A Christmas Tree
DVD Frontera
John Denver: The Christmas Gift DVD
Amazing Race & Top Chef superfan with a pinch of Disney fairy dust thrown in. If you've created a rom-com I've probably watched it.
Your Daily Blend of Entertainment News
Thank you for signing up to CinemaBlend. You will receive a verification email shortly.
There was a problem. Please refresh the page and try again.