This Week In Home Entertainment: Transcendence, Heaven Is For Real And More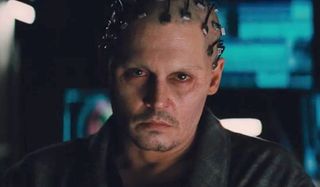 Transcendence Blu-ray
With numerous high profile actors, a script that made the Blacklist in 2012 and a pretty high budget, Transcendence had all of the makings of a blockbuster success story. In fact, due to director Wally Pfister's prominent past working on Christopher Nolan's well-received films, Nolan even signed on to executive produce the story. Unfortunately, the final product doesn't completely work. It's more of a letdown than an actual failure, though. It's a high concept story filled with images meant to inspire wonderment and performances meant to capture a variety of emotions, neither of which fully accomplish the goals.
First time director Wally Pfister is a man with a vision. Transcendence shuffles between stark footage of nature and intricate footage of the nanotechnology that makes up the heart of the film. It looks especially crisp on Blu-ray. It's very full of pretty bells and whistles, but it's lacking in the content that would allow the visuals to marry the story. In fact, it's almost fascinating to watch the whole film unfold in a way that manages to look so good without fully engaging the audience. The 120-minute runtime doesn't help.
There were many times whilst watching Transcendence that I felt the film almost hit the right notes. Yet, it is more often too emotional or lacking in emotion. Its characters are preposterous, although leads Johnny Depp and Rebecca Hall almost pull it off, and Morgan Freeman does manage to win his scenes. However, Pfister never asks his audience to just roll with his wild plot, instead, introducing plenty of dull but scientific sounding speeches to ground the story in reality and take its characters on journeys that often make little sense. It's hard to tell if the film is just lacking in direction or if the writing was simply more inspiring on the page than how it panned out. Perhaps the marriage of these two things just didn't work out. Whatever the issue, at least Transcendence is pretty to look at.
Best Special Feature: The best special feature is "Wally Pfister: A Singular Vision". It follows the legendary cinematographer/ director of photography as he embarks on his first ever directorial effort. In short, everyone was pleased by how skilled he was, but they weren't overly surprised given the incredible amount of time he's spent on high quality sets. Obviously, this movie didn't come out perfectly, but it's very clear there's a lot of talent there.
Other Bonus Features:
"What Is Transcendence?"
"Guarding The Threat"
"The Promise Of A.I." Viral Videos
Trailers
Other July 17
Religious themed movies are very much on trend in Hollywood right now. If you've been keeping tabs on theatrical releases, the last six months saw the biblically-influenced Noah (which is coincidentally hitting Blu-ray next week) as well as the miracle movie Heaven is for Real making money at the box office. This week, it's Heaven is for Real that is getting the Blu-ray treatment. Sony Pictures Home Entertainment's set is not chock full of bonus goodies, but fans of the idea behind the film should find plenty of reasons to pick this one up.
Heaven is for Real is based on a book that was written in 2010, making the bestseller list. It tells the story of a young boy who has a near death experience, after which he wakes up and begins explaining his visions of heaven. Greg Kinnear, Kelly Reilly and Margo Martindale star in the film, and fans who nab a copy of the Blu-ray will get several featurettes, as well as deleted scenes with the set.
You can check out Heaven is for Real on Amazon or check out some more of this week's releases, below. Unless otherwise noted, sets are available on both Blu-ray and DVD.
Sabatoge
All Cheerleaders Die
Blue Ruin
Wahlburgers: The Complete First Season DVD
Flatliners Blu-ray
Amazing Race & Top Chef superfan with a pinch of Disney fairy dust thrown in. If you've created a rom-com I've probably watched it.