Weekend Box Office: Deadpool Three-peats, Gods of Egypt Bombs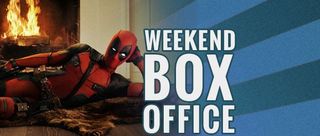 Despite dropping an expected 45% from last weekend, Deadpool's $31 million weekend held strong against weak new competition and maintained the number one spot for a third weekend on a row.
Gods of Egypt boasted names like Geoffrey Rush and Gerard Butler, but without pirate hats and too-good-to-be-true abs, no one seemed interested in seeing either of them in an action/adventure flick. With just $14 million for its debut domestic and an additional $38 million internationally against a hefty $140 million production budget, Gods of Egypt has secured its place as 2016's first major box office bomb.
Positive buzz was building up for Eddie the Eagle, but the feel good sports film failed to pass the qualifiers. It settled for a painful $6 million fifth place opening, the lowest start for a wide release movie lead by Hugh Jackman since Deception in 2008. You don't remember that one? Yeah, neither does anyone else.
The final new arrival, John Hillcoat's crime thriller Triple 9, boasted plenty of big dramatic names and a lot of edgy violence, but audiences seemed too spent on Deadpool's brand of violent entertainment to have anything left to spare. Triple 9 opened in sixth place with just $6 million.
For the full weekend top ten, check out the chart below:
1.
Deadpool

$31,500,000Total: $285,639,009LW: 1
THTRS: 3,856
2.
Gods of Egypt *

$14,000,000Total: $14,000,000LW: N
THTRS: 3,117
3.
Kung Fu Panda 3

$9,000,000Total: $128,455,359LW: 2
THTRS: 3,296
4.
Risen

$7,000,000Total: $22,703,747LW: 3
THTRS: 2,915
5.
Eddie the Eagle *

$6,300,000Total: $6,300,000LW: N
THTRS: 2,042
6.
Triple 9 *

$6,103,096Total: $6,103,096LW: N
THTRS: 2,205
7.
How to Be Single

$5,155,000Total: $39,625,866LW: 5
THTRS: 3,047
8.
The Witch

$5,009,662Total: $16,618,191LW: 4
THTRS: 2,204
9.
Race (2016)

$4,273,000Total: $13,862,622LW: 6
THTRS: 2,387
10.
The Revenant

$3,800,000Total: $170,506,469LW: 9
THTRS: 1,645
Your Daily Blend of Entertainment News