Wes Bentley And Brit Marling Join Terence Malick-Produced Lincoln Biopic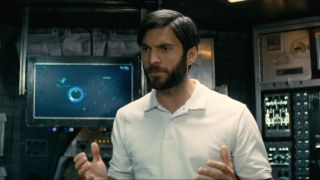 (Image credit: Warner Bros/Paramount)
Can't get enough of Abraham Lincoln? Good, because even though we've seen him battle vampires in Abraham Lincoln: Vampire Hunter, and will see him battle for the unity of the United States in Steven Spielberg's upcoming biopic Lincoln, there's still more Lincoln-centered cinema coming our way. But rather than spinning Honest Abe into a supernatural adventure or focusing on the accomplishments of his presidency, The Green Blade Rises will give us new insight into the 16th president by focusing on his formative years.
AJ Edwards, who got his start in film as an editorial intern on Terrence Malick's The New World, will make his directorial debut with the feature, which he also wrote. Since their first introduction, Edwards has worked on several of Malick's films, including The Tree of Life and To the Wonder, and now Malick will serve as producer for Edwards' The Green Blade Rises.
Already the pair have begun to collect an enticing cast that includes Inglourious Basterds' Diane Kruger and Lawless' Jason Clarke, and now Wes Bentley (The Hunger Games) and Brit Marling (Another Earth) have signed on. As the film will focus on Lincoln's boyhood each of these four will be playing one of his key role models. Marling will play his biological mother, Nancy, who tragically passed away when he was only 10. Clarke will portray his father Thomas and Kruger his stepmother Sarah Bush Johnson while Bentley takes on the role of the young Lincoln's first teacher.
There's no word yet on who will shoulder the role of Abraham Lincoln or when the film will roll into production.
Your Daily Blend of Entertainment News
Staff writer at CinemaBlend.