What Is 4DX, And When Is It Coming To America?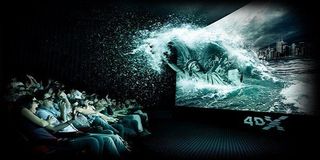 4DX appears to be one of the theater industry's latest trends. The South Korean technology adds an immersive element to movies, no longer simply replicating the three-dimensional visuals of a 3D movie. Are you ready to taste, smell and touch your favorite movie? 4DX puts you in the middle of the action, getting you wet during water scenes, creating an atmosphere of menace during fog scenes and overall improving your cinematic experience. Or something. Probably.
And now the technology is coming to America. The L.A. Times reports that the Regal Cinemas LA Live 14 will be the first American theater to feature the gimmick. The technology costs $1.5 to $2 million per venue, and that includes the installation of devices that affect every seat, which themselves have been rigged to bounce and shake during physical intensive scenes, giving you the sensation that you're involved in the film's hectic action.
This idea, which has already visited Taiwan, Bulgaria, Columbia, Chile, South Korea, the Czech Republic, Guatemala, Venezuela, Ukraine, Hungary, Indonesia, Japan, Poland, Croatia and the United Arab Emigrates, among other places, seems like it could generate controversy. A story featured on The Verge detailed the experience watching Iron Man 3, and claimed it was "distracting," citing that the viewer needed to be pushed and prodded into watching the movie, describing the various mists and scents that ultimately detracted from the experience.
Is this a good idea? In this writer's opinion, theater owners and studios have become so desperate to fight piracy that they're turning movies into theme park rides. What this technology does is that it honors big blockbusters that come loaded with bells and whistles and further marginalizes smaller, intimate movies that ultimately are completely worth your attention. You may have enjoyed the pseudo-classic Captain Eo taking you to another world with similar technologies back in the day. But note how that was an attraction at an actual theme park.
Are we ready to turn movies into funhouses, where you have to be poked and prodded like a test subject in order to show a reaction when a CGI facsimile of a person jumps out of a cartoon plane? Do we really need the ego trip of "identifying" with characters so much that we both get wet at the same time? Or could we just say no to this one, America? Let us know in the comments section below if you are intrigued by the concept of 4DX technology. Is it something that you would pay extra for on a movie ticket? Or have theaters come up with too many options, between 3D, IMAX, D-Box and, now, this? We'd love to hear your thoughts.
Your Daily Blend of Entertainment News