What Happened When Oscar Isaac Brought His Nutty Uncle To The Star Wars Set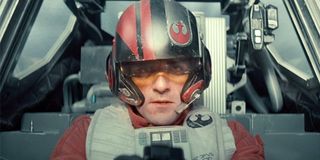 When Oscar Isaac landed what could be the role of a lifetime in what's certainly the property of a lifetime with Star Wars Episode VII: The Force Awakens, he seemed to be properly excited. However, Isaac's enthusiasm may have been eclipsed by his uncle, who is apparently a huge Star Wars fan who even keeps what is described as a glass-covered museum of action figures. Not one to deny a family member from his passion, Isaac would manage to bring his uncle on to the set for what started as a simple visit, but escalated to so much more.
Isaac will play a character named "Poe Dameron" who has been depicted as a Rebel X-Wing pilot, though the breadth of the role could well exceed that capacity. Recently appearing on The Tonight Show with Jimmy Fallon, the actor would tell the rather interesting story of how he brought his apparently Star Wars-obsessive uncle on to The Force Awakens set. Isaac would give proper courtesy to director, J.J. Abrams, alerting him to the fact that there would be a well-grown fanboy hanging around that day. However, the gusto of Isaac's uncle would incite him to come bearing gifts with homemade T-shirts for people on the set. Yet, this wasn't just any standard Star Wars swag that people involved in the film probably were likely already given. Rather, these tees, referencing his family's Latino heritage, represented a cultural meme, brandishing the play on Spanish pronunciation title, "Estar Guars," or, specifically, Estar Guars: Episode 7.
The T-shirts, for which Isaac's uncle even placed the names of the recipients on the sleeves, were apparently a hit. That, coupled with his obvious, inspirational enthusiasm for the Star Wars property, would incite J.J. Abrams to proactively reward the man by CASTING HIM IN THE MOVIE! Sure, the role may have been for a background extra, but Abrams had the uncle put in full costume and makeup, transforming him into what will certainly be a legitimately acknowledged character in the Star Wars universe. Now, that's what you call a trip to the set!
Yet, the gesture could end up being the gift that keeps on giving. As any collector of Star Wars merchandise will tell you, even the most random background character who flashes on screen even for just a few seconds, takes a firm place in the annals of the continuity with a name and possibly merchandise. Yup, that's right, the action figure collection that Oscar Isaac's uncle keeps elaborately in a glass case could one day feature a figure of himself! It's an aspect of this heartfelt story that makes J.J. Abrams' act of good-guy-ism all the more excellent.
For Oscar Isaac, the big franchise excitement won't be stopping with the December 18 release of The Force Awakens, as he gets set to tackle an "apocalyptic" role as the powerful eponymous antagonist in next year's X-Men: Apocalypse. It will most certainly be interesting to see how his role as the most powerful mutant in (Fox's) Marvel Comics Universe will manifest with Isaac's acting chops and certainly a lot of CGI.
In the meantime, do yourself a favor and check out Isaac, the upcoming big-screen Apocalypse and Star Wars star, tell the hilariously heartwarming story of his uncle's visit to the Star Wars set in the video above!
Your Daily Blend of Entertainment News
Your Daily Blend of Entertainment News
Thank you for signing up to CinemaBlend. You will receive a verification email shortly.
There was a problem. Please refresh the page and try again.