How Oscar Isaac Feels About All The Star Wars Info That's Been Leaked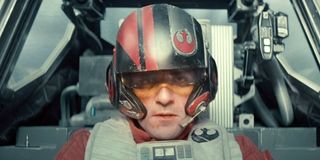 Despite the huge measures J.J. Abrams and the rest of the Star Wars: The Force Awakens team have gone through to avoid leaks regarding the film, leaks have still happened. Images of the Millennium Falcon were released prior to the teaser, and various spoilers have found their way onto the internet. While the leaks have to be frustrating for the Star Wars team, and are inevitably distracting, Oscar Isaac -- who plays Poe Dameron in Force Awakens -- ultimately thinks the leaks can actually create some excitement among fans.
In an interview with Yahoo Movies, Isaac wondered why fans didn't want to just wait for the real thing via an official trailer, featurette, or the actual movie, saying those leaks were distracting and disappointing. However, he also doesn't think film leaks ruin anything for the film.
Regardless of your feelings on movie leaks, Star Wars fans haven't gotten much beyond those "little leaks". As for the fan theories that have mushroom clouded from the tidbits of leaked info? According to Isaac, the circulating fan theories could not be more wrong, which makes sense. Attempting to formulate a plot theory from leaked information stripped from context is quite the task. It seems, at this point anyway, that the leaks have been generally harmless and haven't divulged too much information on what we can expect to see in The Force Awakens.
It makes sense that grabbing reliable, leaked information on the new Star Wars films has been a challenging task for Star Wars fans. Abrams has been working overtime, from auditions to filming, to make sure he has as much control on leaks and spoilers as possible. When Isaac first auditioned for his role in the film, he was not sent a script ahead of time, as is the standard procedure for auditions, and was asked to do a cold reading once he arrived at the audition. Once on set, Abrams has repeatedly asked cast, crew, and fans to not post spoilers online, and he even has posters up around set (inspired by WWII propaganda posters with a bit of Galactic Empire flare) reminding those on set to not release any spoilers. To help calm the spoiler-mania, Abrams has been pretty good about providing fans with breadcrumbs of info via on-set videos for charity and sporadic tweets.
For the time being, we don't have too much in the way of official information about the film. Disney has released, in snazzy trading card format, the names of a few characters, and Fortune Magazine recently did an in-depth look at the Millennium Falcon. And, of course, we also have the film's amazing trailer, which you can watch below (just in case you forgot how amazing it is).
Star Wars: The Force Awakens opens in theaters on December 18, 2015.
Your Daily Blend of Entertainment News