What Keira Knightley Would Look Like As Cable In Deadpool 2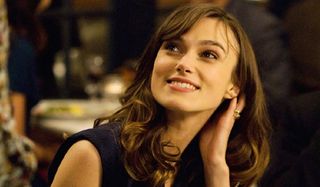 Warning: Deadpool spoilers are ahead!
In the Deadpool post-credits scene, a bathrobe-wearing Wade Wilson announced to the audience that Cable would appear in Deadpool 2. No one has actually been cast in the role yet, but the anti-hero did provide a few suggestions, including Keira Knightley, saying, "She's got range – who knows?" While the chances of Knightley being cast as Cable are unlikely, unless they're going a radically different route with the character, it's still fun to imagine what she might look like as the time traveling mutant, and one artist has given us a good-looking depiction.
This image comes from digital artist BossLogic, who transformed Keira Knightley from a Hollywood starlet into a tough-as-nails, cyborg mutant who comes from a horrifying future. Knightley's Cable has most of the same trademark physical characteristics as the comic book Cable does: the grey hair, the scarred face, the cool bionic eye and the gigantic gun. Since it's a head shot, we don't get to see her with Cable's bionic arm, but still, this artwork is well done.
Of all the superhero film series out there, Deadpool is the most likely to throw a curve ball by casting an actress in a role like Cable, so seeing Keira Knightley done up as above isn't entirely impossible. BossLogic's previous superhero movie role transformations include depicting Bryan Cranston as Mister Sinister and Vin Diesel as Black Bolt. Knightley followed Dolph Lundgren and Mel Gibson as Deadpool's own suggestions to play Cable, but no doubt 20th Century Fox will look at a wide selection of other actors.
In the comics, Cable is Nathan Summers, the son of Scott Summers, a.k.a. Cyclops, and Jean Grey clone Madelene Pryor. Shortly after being born, he was infected with a techno-organic virus by Apocalypse, and the only way to treat it was by sending him to the future. Unfortunately, the era that Cable grew up in was a post-apocalyptic one, and he subsequently grew up to be the badass warrior we all know him as. He eventually traveled back to the present to stop Apocalypse's rise to power and prevent the future he grew up in from happening. Cable would later lead teams like the New Mutants and X-Force, but Deadpool 2 will take inspiration from his bizarre dynamic with the Merc with a Mouth, whether they're pitted against each other or joining forces.
Deadpool 2 has already been green-lit by 20th Century Fox, with Rhett Reese and Paul Wernick penning the sequel and director Tim Miller in negotiations to direct again. As for Keira Knightley, she recently appeared in last year's Everest, and she's set to star in Collateral Beauty.
Your Daily Blend of Entertainment News
Connoisseur of Marvel, DC, Star Wars, John Wick, MonsterVerse and Doctor Who lore. He's aware he looks like Harry Potter and Clark Kent.