Mads Mikkelsen's Star Wars: Rogue One Character Isn't What You Think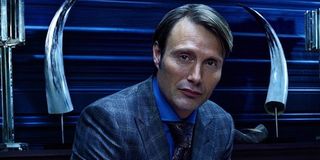 Danish actor Mads Mikkelsen cuts such an intense, imposing figure on the screen that it leads to him most often playing villains, especially in American movies and shows, like the James Bond adventure Casino Royale or as Hannibal Lector on NBC's recently cancelled Hannibal. When it was announced he joined the cast of Star Wars: Rogue One, many assumed he would take a similar antagonistic role, but that, apparently, is not the case.
Mikkelsen's participation in Rogue One was announced a few weeks back at D23 the same time that awesome cast photo was revealed, but that was all the information we had. Talking to the Danish paper Ekstra Bladet (with a translation from Star Wars 7 News), he provided some additional details, saying:
The idea of Mikkelsen playing a good guy isn't really all that outlandish. Though he is best known to English-speaking audiences as a dude who plays bad guys, which he is very good at, he has been a good guy, or at least the protagonist, many times.
What remains to be seen out of this is what kind of "not a bad guy" Mikkelsen is playing. We know that the plot revolves around the theft of the plans for the first Death Star that sets up the action in A New Hope. The photo we saw out of D23 shows a collection of characters that many presume are some of the folks involved in the heist, but there could obviously be more. Perhaps Mikkelsen is one of those not pictured. He could also bring that presence and air of authority to another arena, for instance, he could very easily play an officer or commander in the fledgling Rebel Alliance.
And just because he's not a villain, doesn't mean he's necessarily a good guy. From what we can see of the characters in that photo, they're a grim and roughed up lot, like they've seen some serious shit in their days and maybe they're not the most kind-hearted souls around. That makes sense, because if you're planning to steal some important blue prints from what is likely a highly secure Imperial base, you're going to need people skilled in that area, and career thieves tend to not always be the most upstanding citizens. Mikkelsen could kill it in an anti-heroic role like that, whether his motivation is purely money or something larger.
Rogue One has also been described as a brutal war movie, one compared to Vietnam War drama Hamburger Hill. If you've seen movies like Valhalla Rising, you know just how well Mikkelsen can play the harried warrior who has been through some intense battles and lived to tell the tale.
Word on the street is that Bloodline star Ben Mendelsohn, who's participation was also confirmed at D23, plays the primary antagonist in Rogue One. That on its own is an awesome prospect to consider, but now that we know Mads Mikkelsen is a good guy, it brings up the possibility that the two incredible actors could go head-to-head at some point, and that is enough to make a film fan start to drool.
Whatever the particulars of Mikkelsen's role, we have a long time to wait before we find out for ourselves. Star Wars: Rogue One, or Rogue One: A Star Wars Story, just started filming under the watchful eye of director Gareth Edwards, and it doesn't hit theaters until December 16, 2016. Fortunately for us, we'll have Star Wars: The Force Awakens to tide us over until then.
Your Daily Blend of Entertainment News