Why Bourne 6 Isn't Guaranteed, According To Matt Damon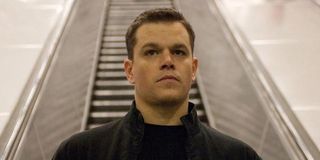 After a lackluster showing the last time out of the gate, you can bet that the Bourne franchise is glad to have Matt Damon back for another go round. Bourne 5 is definitely happening, we've seen photos from the set and everything already. What remains less concrete, however, are Damon's plans beyond that.
Making the press rounds for Ridley Scott's The Martian, which opens this weekend, the 44-year-old actor sat down for a lengthy chat with The Hollywood Reporter, and when the subject of his playing amnesiac international agent Jason Bourne in the future came up, he said:
In an industry where actors are often tied to multiple movies over many years, especially when you think of franchises where characters reappear across multiple chapters like superhero movies or James Bond, the idea that Matt Damon only signs up for one Bourne film at a time is almost quaint.
We haven't seen Damon play Jason Bourne since 2007's The Bourne Ultimatum. In the interim, the franchise tried to reinvent itself with Jeremy Renner in the lead, not playing Bourne, a move that didn't go particularly well. But with Damon and director Paul Greengrass, who helmed both Ultimatum and 2004's The Bourne Supremacy, back in the fold, the saga seems to have gotten it's mojo back.
We don't know a ton of specifics about what Bourne 5 will look like, but we have hints. Damon has said that the action picks up with Jason Bourne having recovered most, but not all of his memories, and he's been living off the grid for 12 years. There were references to sightings in Legacy, and that image we saw of a shirtless Matt Damon in what appears to be a rural village certainly seems to support this "off the grid" lifestyle. The actor has also said that the post-Edward Snowden world in which we live will also play a key part in the film, though how that figures in remains to be seen.
Bourne 5 has also put together a solid cast so support Damon. Julia Stiles will reprise her role as former CIA analyst and occasional Bourne ally Nicky Parsons; Tommy Lee Jones and Alicia Vikander have also both joined the cast, though their roles are not yet known; and Vincent Cassell will play the villain, a high-level assassin on the trail of the title character, though it is unclear if his motivation is professional or personal.
Bourne 5 is already filming and is scheduled to hit theaters on July 29, 2016. We'll have to wait and see if we can expect Matt Damon to take the character out for another spin in Bourne 6.
Your Daily Blend of Entertainment News
Thank you for signing up to CinemaBlend. You will receive a verification email shortly.
There was a problem. Please refresh the page and try again.