Matt Damon On How Recent Political Scandals Helped Shape Bourne 5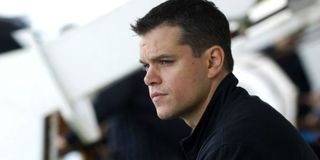 Matt Damon just provided an update on the upcoming fifth instalment to the Bourne franchise, explaining the main thrust and drive that drew him back to the character. As it turns out, we have Edward Snowden and the recent austerity crisis across Europe to thank for Damon's involvement.
During his recent discussion with Buzz Feed, Matt Damon, who previously starred in The Bourne Identity, The Bourne Supremacy, and The Bourne Legacy, which in turn helped to turn him into a legitimate action star, admitted that everyone involved had to wait for the world to change in order to bring a fresh edge to the series. He explained that after discussing the idea of a follow-up a number of times with director Paul Greengrass over the years, it wasn't until Edward Snowden and the NSA whistleblowing tales emerged that they felt they had a story worth telling. Damon said:
Sounds intriguing enough. My main worry with this is that Paul Greengrass and Matt Damon's last film together, 2010's Green Zone, suffered because its political agenda was almost too brazen on screen. Hopefully Bourne 5 will manage to subtly include its themes, much in the same fashion that Matt Damon's previous excursions as the character did, punctuating these ideas with thrilling action scenarios that were meticulous, cold, calculated, and genuinely enthralling.
Edward Snowden has previously been described by Senator John McCain as "some kind of Jason Bourne" for his antics, which saw him release a hoard of classified information that he had gathered from the U.S. National Security Agency back in 2013. Because of his actions, Snowden instigated the debate about security versus privacy, a discussion that still rages on.
There's just one slight little problem about Bourne 5's decision to be influenced by Edward Snowden: there's already a Snowden biopic in the works. In fact, Snowden, directed by Oliver Stone and starring Joseph Gordon Levitt in the title role, will be released this December. However, as Snowden is a biopic, the two films shouldn't overlap too much, especially since Bourne 5 is probably only going to use his actions as a starting off point for their adventure.
Matt Damon will be joined by Tommy Lee Jones and Alicia Vikander for Bourne 5, which is due to hit cinemas on July 15, 2016, and everyone is rather excited about it. Well, everyone except Jeremy Renner.
Your Daily Blend of Entertainment News