Matt Damon Looks Badass And Lethal In First Bourne 5 Photo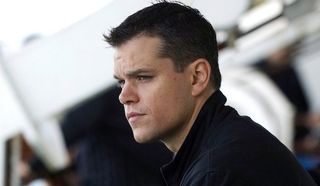 It's very, very early in the going, and we don't know much, if anything, about what the upcoming Bourne 5 will look like (okay, Paul Greengrass is back to direct, so it will probably feature a lot of jittery, pseudo-verite style camerawork). But now we have our first look at Matt Damon returning to the title role, and if you had any doubts about whether or not he could still pull it off, just check out this badass first look. It will go a long way towards easing your mind on that front.
Super producer Frank Marshall (Jurassic World, Indiana Jones, and tons of other notable films) tweeted out this image, and it's a doozy. We haven't seen Matt Damon's Jason Bourne since 2007. He was mentioned in the Jeremy Renner-starring The Bourne Legacy, but mostly just to drive home the fact that no one knew where he was.
At the end of The Bourne Ultimatum, he's swimming away into an uncertain future, and in Legacy, we find out he's still being hunted, though he appears to be at least one step ahead of his pursuers at every stage. While there's no concrete information in this image, it offers a glimpse of at least a part of what he's been up to in his spare time and how he's remained hidden.
Unwrapping his fists, shirtless, bruised, and covered in dirt, it appears that Jason Bourne has joined the likes of John Rambo before him (and Topper Harley in Hot Shots! Part Deux), and gone underground where he literally has to fight to survive. Enclosed in some sort of ring, surrounded by a grubby looking audience, it looks like he's become a part of some kind of fighting ring, probably as a way to use his skills to earn money and stay off of the government radar. Last we heard in Legacy, he was spotted in Russia, so it's easy to imagine him living a simple, quiet life, aside from the fisticuffs, somewhere in the former Eastern Bloc.
While production must just have started—just a week ago we heard new casting news, but nothing about actual filming—Bourne 5 has already put together a fantastic cast. In addition to Damon, who looks ripped and grizzled here, Tommy Lee Jones and Ex Machina's Alicia Vikander have both joined the party. Julia Stiles will reprise her role as former CIA analyst and Bourne ally Nicky Parsons. And Vincent Cassell will reportedly play a high-level assassin on the trail of the amnesiac super agent, though we're not sure if this is for personal or professional reasons.
Bourne 5 is apparently already filming, and it is slated to hit theaters on July 29, 2016.
Your Daily Blend of Entertainment News
Thank you for signing up to CinemaBlend. You will receive a verification email shortly.
There was a problem. Please refresh the page and try again.