Why Brokeback Mountain's Producer Thinks It Lost Best Picture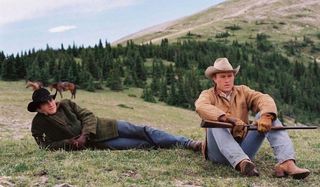 At the 78th Academy Awards ceremony in 2006 a movie about two closeted gay cowboys and their complex relationship in the American West was at center stage. It was the first gay romance to hit the mainstream and grossed $178 million worldwide. But while the film continues to stand out as the most successful same-sex love story produced by Hollywood with high praise and critical acclaim, that year it lost out on one major prize, Best Picture. Nobody was as disappointed as the crew that produced it, and Brokeback Mountain's producer James Schamus thinks he knows why they lost.
Producer James Schamus and the film's director Ang Lee opened up to Variety in lieu of Brokeback Mountain's 10th Anniversary, and Schamus explained that their major loss at the Oscars all came down to the Academy playing it safe. He said:
The epic romance saw Heath Ledger and Jake Gyllenhaal at the leads, and while they were recognizable at the time, the film definitely helped them achieve further commercial success. At the 78th Academy Awards, Brokeback Mountain was nominated in eight categories, of which it won three. The film took home Best Director, Best Adapted Screenplay and Best Original Score, but losing out to Best Picture was a controversial shock.
After Crash won the Academy Award for Best Picture, critics were not happy, and many even accused the Academy of homophobia. It was a harsh debate, but ultimately as Schamus notes, there was no bitterness towards the film that won. The Brokeback Mountain producer sees that the safe political choice was made, but was still happy for the 'other guys'.
By today's standards though, Brokeback Mountain probably would have won that Best Picture. Actually not probably, definitely. Earlier this year The Hollywood Reporter polled hundreds of Academy members asking them to recast their ballots in a few historic races and when it came to the 2006 Best Picture, well, Brokeback Mountain came out on top. Despite the loss though, the film continues to live on and inspire, doing much more for the Hollywood film industry in being a successful same-sex love story than it probably would have just simply as a Best Picture winner.
Your Daily Blend of Entertainment News
Your Daily Blend of Entertainment News
Thank you for signing up to CinemaBlend. You will receive a verification email shortly.
There was a problem. Please refresh the page and try again.