Why Gone Girl 2 Could Actually Work, According To Tyler Perry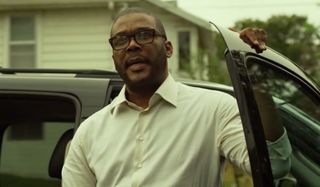 It's hard to imagine a Gone Girl sequel. While its ending was somewhat open ended (no pun intended), it was such a tightly told story that delightfully twisted and turned throughout, that returning for a follow-up could prove to be a disaster. However, that hasn't stopped rumors of Gone Girl 2 from emerging, with both Rosamund Pike and Gillian Flynn admitting they're open to the idea. Now Tyler Perry has jumped on this bandwagon, insisting that there's much more to the story, and that he has faith Gillian Flynn would write something terrific.
Tyler Perry made this admission to me when I sat down with the actor to talk about his role of Dr. Baxter Stockman in Teenage Mutant Ninja Turtles: Out Of The Shadows. But as a huge fan of David Fincher's masterful Gone Girl, especially Tyler Perry's magnetic performance as Nick Dunne's attorney Tanner Bolt, I couldn't help but quiz him about the Gone Girl 2 rumors. To which he responded:
Rosamund Pike actually started the speculation about Gone Girl 2 herself shortly after the original was released back in 2014. After being asked whether she'd return for a sequel, the actress insisted, "No, no, no." However she instantly warmed to the idea by then adding, "Only if Gillian [Flynn] wrote it. I don't like the idea of someone coming in and saying I could get my hand on these characters."
Back in early 2015, Gillian Flynn exacerbated the rumors regarding Gone Girl 2 when she admitted that she'd like to revisit the characters of Nick and Amy Dunne, but only a few years down the line. Flynn remarked to the NY Daily News:
It's not actually beyond the realms of possibility that Gone Girl 2 could happen. As you can see, three of the main cast are intrigued by the potential film, while its studios Regency Enterprises, TSG Entertainment, and 20th Century Fox would clearly be game after Gone Girl grossed $369.3 million from just a $61 million budget.
Unfortunately, we've yet to hear from director David Fincher and actor Ben Affleck on whether they'd return for Gone Girl 2. There's probably only a remote chance that the duo would be interested in putting their other creative endeavors to one side to return to this world. But until they firmly say no we've still got a glimmer of hope that the most unlikely sequel of all time could actually happen.
Your Daily Blend of Entertainment News
Your Daily Blend of Entertainment News
Thank you for signing up to CinemaBlend. You will receive a verification email shortly.
There was a problem. Please refresh the page and try again.