Why Gwendoline Christie Fought To Play Captain Phasma In Star Wars 7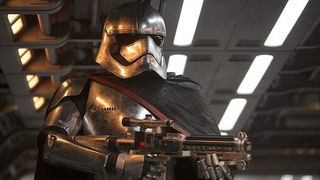 Being cast in a new Star Wars movie is a big deal for any actor, and we've heard stories of the arduous, secretive audition process some of the stars of the upcoming Star Wars: The Force Awakens underwent. It was a daunting task, but one of the new additions, Gwendoline Christie, not only dove into it headfirst, she fought like hell for her role, and she just revealed why.
Talking about her role as Captain Phasma, the chrome armor-wearing leader of the new cabal of stormtroopers in The Force Awakens, with the Los Angeles Times, the Game of Thrones star spoke about why the role, and the larger saga, is so important to her. She said:
Like many of the new cast members (with the key exceptions being 51-year-old Andy Serkis and the 86-year-old Max Von Sydow), the 37-year-old Christie has never lived in a world without Star Wars, and it appears that the space opera played an important role in her life. It's a place where you can escape to and lose yourself in; to see a world like that, populated by unusual creatures that are part of the norm, can be comforting if you feel like you don't belong anywhere.
Christie says that eventually the powers that be were worn down by her persistence. Though we don't know much about Captain Phasma, she does describe the character a Boba Fett-like, not necessarily in how she acts, but when it comes to the role she plays in the narrative. It doesn't sound like she'll be a main character, but that she still has a key role.
Stormtroopers have always been the shock troops of the Empire, and now the First Order, which grew out of the ruins after Return of the Jedi. Even though she's an officer, Phasma is still likely to be a kind of grunt, front-lines style of fighter, getting into the shit and mixing things up, while others, likely Supreme Leader Snoke (Andy Serkis) and General Hux (Domhnall Gleeson), orchestrate things from afar. It's easy to imagine that she's the one hunting our heroes across that far, far away galaxy.
In addition to her role in Game of Thrones, where she plays Brienne of Tarth, and her upcoming turn in The Force Awakens, we'll have the opportunity to see Gwendoline Christie play yet another formidable warrior coming up soon. In The Hunger Games: Mockingjay—Part 2, which opens later this month, she plays Commander Lyme, a previous winner of the Hunger Games and leader of the rebels in District 2. Though as it only involved two days of shooting, it isn't a particularly large part.
Star Wars: The Force Awakens opens everywhere on December 18, The Hunger Games saga closes out on November 20, and Game of Thrones returns to HBO next year.
Your Daily Blend of Entertainment News
Thank you for signing up to CinemaBlend. You will receive a verification email shortly.
There was a problem. Please refresh the page and try again.