Why Isn't Jennifer Lawrence's Next Film Opening Up In The United States?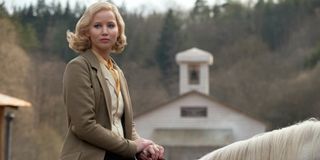 Fresh off their turns in the Oscar-nominated American Hustle, Jennifer Lawrence and Bradley Cooper will reteam for the period drama Serena, which shared a new photo of Lawrence in character. When will you be able to see the film? Well, that's a whole 'nother issue entirely.
Susanne Bier directs Serena, the story of a New England couple who move to North Carolina to launch a timber industry in 1929. Don't expect smooth sailing, however. As the plot synopsis lays out:
Does she use a bow and arrow to do so? Please tell me Jennifer Lawrence is going to go all Katniss on this poor, child-bearing frontier woman.
We'd like to tell you when you can expect to see Serena, but if you live in the States, you might be out of luck. ScreenRant (which shared the top image) reports that Serena doesn't yet have a U.S. release date, nor proper U.S. distribution. The film's IMDB page notes that StudioCanal plans to release Serena in the UK later this year (on Oct. 24, to be specific), and in France next year. Yahoo Movies, meanwhile, reports that Bier took 18 months to finish the film, and the lengthy post-production process has led to delays.
But now that the film has release dates in certain territories, why won't a U.S. distributor pick it up… or dare to put it in the annual Oscar race?
Let's state the obvious: Jennifer Lawrence and Bradley Cooper are huge movie stars, and their pairing should be able to carry any art-house drama. The two earned Academy attention for both Silver Linings Playbook and American Hustle. Later this year, Lawrence is expected to shatter box office records in The Hunger Games: Mockingjay – Part 1, while Cooper will be part of Clint Eastwood's next feature, American Sniper.
The easy answer might be that Serena is bad. We have been hearing about it for years now, and the stars filmed it a while back. Susanne Bier has been tinkering with it. If it were a possible awards contender, it likely would be teasing itself to crowds in Venice, Telluride or Toronto. The silence on Serena, so far, speaks volumes.
Danish director Susanne Bier has a strong following overseas for her outstanding features After the Wedding, Brothers (which was remade in the States) and In a Better World. She might not have the name recognition to open a film, but her two leads do. Now that we are seeing a new photo for Serena, does this mean a trailer will follow? Or a release date? Or the possible hint of an awards campaign? Because right now, the film is a high-profile mystery, and we'd love to have it solved.
Movie junkie. Infatuated with comic-book films. ReelBlend cohost. Resident dad. Extroverted introvert. Wants to see the Snyder Cut. Managing Director at CinemaBlend.
Your Daily Blend of Entertainment News
Thank you for signing up to CinemaBlend. You will receive a verification email shortly.
There was a problem. Please refresh the page and try again.