Why James Gunn Isn't Bringing Guardians Of The Galaxy Vol. 2 To D23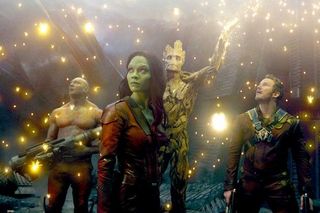 James Gunn has been doing a pretty good job keeping Marvel fans completely up to date with his work on Guardians Of The Galaxy Vol. 2. Which means that when rumors regarding the hugely anticipated sequel begin to circulate, he jumps straight on to one of his social media accounts to debunk or confirm them. And he's did just that to deny that Guardians Of The Galaxy Vol. 2 will be at the D23 Expo.
After being asked by one of his loyal followers whether he would be at the extravaganza to show off a sneaky peek at his pre-production work on Guardians Of The Galaxy Vol. 2, Gunn disappointingly admitted that the film is not quite there yet. And while that is of course devastating to hear, it's great that James Gunn hasn't left fans attending the Expo on pins and needles. It also makes complete sense that Gunn isn't ready to show off any details regarding the film, too.
Even though Guardians Of The Galaxy 2 was confirmed before its predecessor had actually been released, James Gunn only completed his first draft of the script in June 2015. Clearly, at this point, he is still tinkering with it to try and make it completely perfect ahead of production. Plus, there's a very good chance that the explosive, sci-fi adventure will change drastically from its current form between now and the first day of shooting, so there's no point in placating fans with information that could ultimately prove to be meaningless.
At the moment, all that we really know about Guardians Of The Galaxy Vol. 2 is its title, release date, that James Gunn is both writing and directing it, and that its leading posseof actors will each return. This includes Chris Pratt, Zoe Saldana, Dave Bautista, Vin Diesel, Bradley Cooper, Michael Rooker, Karen Gillan and Sean Gunn.
James Gunn certainly has a vast world to explore with Guardians of the Galaxy Vol. 2. He's already made it clear that he wants to delve into Yondu, Drax, and Nebula's back story, explore the Xandarian, Kree, Krylorian, and Ravager societies, and also try and figure out who the hell Peter Quill's father is. We'll finally find out how many of these boxes he ticks when Guardians Of The Galaxy Vol. 2 is released on July 28, 2017.
Meanwhile, the D23 Expo is this weekend and will include panels and showcases for Finding Dory, The Good Dinosaur, The Jungle Book, Captain America: Civil War, and Star Wars: The Force Awakens. Basically, you're going to want to be glued to your computer for updates. And Cinema Blend will have plenty of those over the next few days. You're welcome.
Your Daily Blend of Entertainment News
Thank you for signing up to CinemaBlend. You will receive a verification email shortly.
There was a problem. Please refresh the page and try again.