Why James Gunn Never Thought Guardians Of The Galaxy's Screenplay Would Be Nominated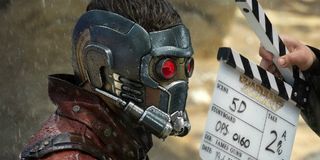 Guardians of the Galaxy director and screenwriter James Gunn deserves a big round of applause. Not only was his Marvel movie about an obscure comic book team one of the biggest hits of the year, it was also recently nominated for Best Adapted Screenplay by the Writers Guild of America, something Gunn was floored by. It turns out he had a good reason for his surprise.
Gunn released a statement on his ever-popular Facebook page (the same page on which he likes to post hilariously creative GOTG fan art) to express the honors he feels to receive the award. Though, as he wrote, Marvel "did not send a screener to Guild members, and did not spend money on any kind of push." That alone makes the recognition all the more impressive, but the studio's lack of promotion does seem a bit off. He's got some stiff competition, with American Sniper, Wild, The Imitation Game and Gone Girl also nominated in the category. Here's Gunn's full statement.
Post by James Gunn.
When Gunn turned in the first draft of the GOTG script, he said everyone -- including Marvel Studios's Kevin Feige and Louis D'Esposito -- were thrilled over his take. But Avengers 2 director Joss Whedon was the one who gave him the God's honest truth. As Gunn recalls:
Whedon ended up loving what Gunn came up with and praised his "twisted" take on the characters, especially Rocket Raccoon.
Marvel was at a crossroads with Guardians. If it succeeded, it would prove to them that audiences would still pay big bucks to watch standalone movies about virtually unknown or underrepresented superheroes and their adjoining universes. But if it failed, there were rumblings that they would have to rethink their strategy moving forward. Thankfully, a Phase 3 movie slate has been set to include solo adventures for Ant-Man, Doctor Strange, Black Panther and Captain Marvel, on top of the next solo outings for Thor and Captain America and the epic two-part Avengers: Infinity War.
As such, we have to thank Gunn in part. His unique take on Guardians made fans fall in love with the wise-ass Star-Lord, the kick-ass Gamora, the Amelia Bedelia on steroids known as Drax, the foulmouthed and gunslinging Rocket, and the lovable Groot. With the Oscar nominations officially announced in a few days time on January 15, could Gunn enter the race with Guardians, perhaps for adapted screenplay?
Your Daily Blend of Entertainment News
Thank you for signing up to CinemaBlend. You will receive a verification email shortly.
There was a problem. Please refresh the page and try again.