Why Kung Fu Panda 3 Could Be A Bigger Hit Than We Imagined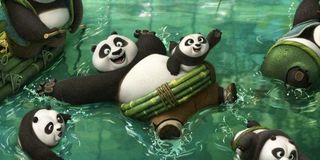 Kung Fu Panda 3 looks as though it's going to be the first mega hit of 2016, with tracking figures suggesting that it's going to make a fortune when released at the end of the week. This will be music to the ears of Dreamworks Animation executives too, as the studio has been in need of a box office smash, after Home, Penguins Of Madagascar, Mr Peabody & Sherman, Turbo, and Rise Of The Guardians performed poorer than expected.
Fandango have confirmed that Kung Fu Panda 3's ticket sales are tracking extremely high, and they've even provided a reason for the animated flick's appeal. In fact, they explained that it should do well because family audiences are "starved" for entertainment in the multiplexes. The website explained:
Early reviews for Kung Fu Panda 3 have been pretty impressive, and it currently holds an 87% rating on Rotten Tomatoes. Dreamworks Animation officials will be hoping that this allows the third installment to the franchise to eclipse the $665 million that 2011's Kung-Fu Panda 2 grossed, while the original effort amassed $632 million back in 2008.
Kung Fu Panda 3 once again features the vocal talent of Jack Black as Po, Angelina Jolie as Tigress, and Dustin Hoffman as Shifu, while Jackie Chan, Seth Rogen, and David Cross each provide their own inimitable talent in supporting roles, and Bryan Cranston and Kate Hudson join the cast as Po's biological father and Po's love interest Mei Mei, respectively.
After reuniting with his biological father, Kung Fu Panda 3 then finds Po trying to train a recently discovered village of pandas to fight an evil ancient spirit that's terrorizing China.
While Star Wars: The Force Awakens is, unsurprisingly, the most successful film of 2016 so far, grossing $205.8 million in the US alone since the turn of the year, the likes of Ride Along 2 and The Revenant have performed admirably too. But Kung Fu Panda 3 is currently believed to be on course for a $40 million plus opening weekend. Dreamworks is looking to open it on 3,955 theaters across the US.
Kung Fu Panda 3 shouldn't have too many problems beating its box office competition this weekend. It's going up against Disney's disaster drama The Finest Hours, the intriguing western Jane Got A Gun, and Fifty Shades Of Black, which just look rather unsatisfying.
Your Daily Blend of Entertainment News