Why My Big Fat Greek Wedding 3 Isn't A Guarantee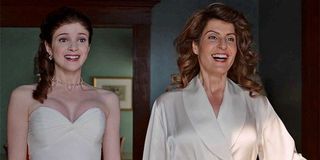 It has taken 14 years for My Big Fat Greek Wedding to follow its hugely successful original. In addition to the returning cavalcade of characters, 18-year-old Elena Kampouris portrays the daughter of Nia Vardalos' Toula and John Corbett's Ian. Since Kampouris' Paris spends most of My Big Fat Greek Wedding 2 worrying about prom and which college she should go to, a lot of people will assume that a third movie will focus on her how her furture unfolds and her potential marriage. However, the young actress insists that isn't a sure bet right now.
I recently had the chance to attend the press junket for My Big Fat Greek Wedding 2, where Elena Kampouris explained why a third instalment to the franchise is far from guaranteed. She said:
Obviously the success of My Big Fat Greek Wedding 2 will ultimately determine if the cinematic powers that be pursue Nia Vardalos to write the script for another film. But with My Big Fat Greek Wedding 2 only costing $18 million to make, and there currently being a dearth of family friendly comedies around, there's a chance that it will connect with an audience once again.
Obviously, it's unlikely to match the $368.7 million that the original grossed all the way back in 2002 from just a $5 million budget. But a worldwide box office haul of around $60 million is certainly possible. Even though the opening of Batman v Superman: Dawn of Justice is taking up pretty much all of the publicity and screens this weekend, the eternally wholesome and sweet My Big Fat Greek Wedding 2 is seen as the perfect piece of counterprogramming to the bombastic superhero release.
My Big Fat Greek Wedding 2 finds Toula and Ian experiencing marital problems, while at the same Toula's parents Gus (Michael Constantine) and Maria (Lanie Kazan) learn that since their wedding certificate wasn't signed decades ago they're not officially married. Of course, the huge ensemble from the original each return, while John Stamos, Rita Wilson, Alex Wolff, and Elena Kampouris all join the cast too.
Want to know more? Then check out my review for My Big Fat Greek Wedding 2 here. Or, just go and watch it now, as the comedy was released into cinemas today.
Your Daily Blend of Entertainment News