My Big Fat Greek Wedding 2 Is On Its Way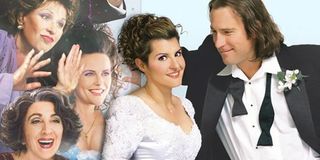 It's been 12 years since Nia Vardalos won over audiences with her rowdy and sweet romantic-comedy My Big Fat Greek Wedding. And in her mind, it's time for a good old-fashioned sequel.
Variety reports Gold Circle Films and HBO Films are reteaming to produce My Big Fat Greek Wedding 2, which has not yet released an official title. Nia Vardalos and John Corbett, who starred in the first film, will be back reprising their roles, and it's likely producers will work to reunite much of Vardalos' onscreen family as well. Tom Hanks and Rita Wilson are back on board as producers, alongside Gary Goetzman. Paul Brooks, Norm Waitt, Steven Shareshian return as executive producers, adding Scott Niemeyer and Vardalos herself.
In a statement, Nia Vardalos, who also wrote the script for My Big Fat Greek Wedding 2, was quick to explain the inspiration for the sequel, while defending it against anticipated cynical attacks. She said:
My Big Fat Greek Wedding 2 will thankfully not take the dark route of Bridget Jones's latest adventure. The plucky Greek woman Vardalos played in the first film is thankfully not getting a divorce or dealing with being newly widowed. Instead, the sequel will pull the loud and loving Portokalos family back together for another wedding that is said to be even, bigger, fatter and wilder than the last. Along with the clashes of personality inherent in such a reunion, the Portokalos family must also confront an unearthed family secret.
A sequel to My Big Fat Greek Wedding seems a smart idea on Gold Circle's part. Back in 2002, the $5 million movie boasted no major stars, yet its feel-good humor and contagious warmth made it a massive sleeper hit, pulling it to earn $241 million in the U.S., and another $127 million overseas. This made it the highest-grossing romantic comedy of all time, and launched Vardalos, who earned an Academy Award nod for Best Screenplay. But instead of a sequel hot on the tail of its success, Vardalos spun the concept out into the short-lived sitcom My Big Fat Greek Life. No mention is made in the Variety piece as to if or how the series will factor into the sequel.
My Big Fat Greek Wedding 2 is now in development. As for Nia Vardalos, she also has a project called Leftovers in the works for Paramount, and fans can look for her on her book tour for her New York Times bestseller Instant Mom.
Staff writer at CinemaBlend.
Your Daily Blend of Entertainment News
Thank you for signing up to CinemaBlend. You will receive a verification email shortly.
There was a problem. Please refresh the page and try again.