Why The Revenant Had To Shoot Its Scenes In Order, No Matter How Difficult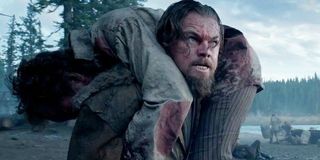 It's quite hard work shooting a movie, especially when that movie is The Revenant. Part of the reason for this chaos was the fact that director Alejandro G. Inarritu insisted on shooting The Revenant in chronological order. And now Inarritu, from the comfort of his editing suite, has been explaining why he did just that.
During his appearance at the Producers' Masterclass panel over the weekend, via Yahoo, Inarritu detailed why he loves working in this fashion. Inarritu explained:
Now, even if you vehemently disagree with Alejandro G. Inarritu's rather expensive and strenuous point-of-view, the fact that he won three Academy Awards just last February for his work on Birdman or (The Unexpected Virtue Of Ignorance) proves that he kind of knows what he's talking about. Though 20th Century Fox isn't overly pleased with Inarritu's approach, and with some solid, financial reasoning of their own. That's because the studio have now reportedly spent $135 million on The Revenant, despite the fact that they originally only gave up $60 million to produce the film.
The Revenant's production has already been labelled as one of the most torturous in recent memory. Extreme weather conditions and disenchanted members of crew dropping out all conspired against the film, and it took its toll on both the shooting schedule, as well as the studio's bank account. It's believed that Inarritu's insistence in shooting chronologically instantly added $7 million, while it then rose to $95 million during the shoot, before eventually landing at $135 million by its completion.
But despite these huge problems, Alejandro G. Inarritu persisted in shooting the film in order because that's the way he's always filmed his pictures. Even with this vast sum of money being spent, it's safe to say that The Revenant currently looks as though it will be worth every penny. And the fact that it is coming from the most recent winner of the Academy Award For Best Director, as well as being touted as the film that might finally land Leonardo DiCaprio a Best Actor trophy, means that there is a definite buzz surrounding its release. A buzz you can feel, as you watch the trailer below.
On the financial side of the coin, 20th Century Fox's box office hopes for The Revenant might be slightly scuppered by the fact that Star Wars: The Force Awakens is being released just a week before. But as long as The Revenant receives the positive reviews that usually accompany Inarritu's films then it should have enough to match its escalated budget.
Your Daily Blend of Entertainment News