The Wolf Of Wall Street Makers Accused Of Funding Through Racketeering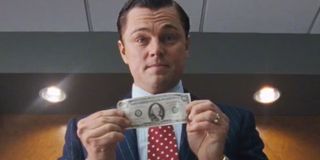 What does Dumb and Dumber have to do with Wolf of Wall Street? Nothing aside from sour grapes between the films' producers, which may have been enough to launch a devastating legal battle. Allow me break down how a lawsuit over the upcoming sequel Dumb and Dumber To has roped in accusations about the makers of Wolf Of Wall Street.
The 1994 hit comedy Dumb and Dumber was produced in part by Brad Krevoy and Steve Stabler, but both were denied a chance to participate in the making of the sequel Dumb and Dumber To. For this offense, the pair sued Red Granite and its heads Riza Aziz and Joey McFarland, the production company behind Dumb and Dumber To.
In a stunning move, Krevoy and Stabler have added an amendment to the original suit that claims Red Granite committed racketeering in making the company's biggest hit to date, The Wolf of Wall Street. THR reports the full $100 million of The Wolf of Wall Street's budget will be looked at to see if it came from illegal means.
According to the complaint filed by Krevoy and Stabler:
Their complaint goes on to declare that these allegedly ill-gotten gains have been used to finance The Wolf of Wall Street as well as Dumb and Dumber To "with knowledge that the transactions were designed to conceal the nature, location, source, ownership, or control of the proceeds of the illegal activity."
At this time its unknown what kind of proof Krevoy and Stabler have regarding this alleged corruption said to have weaved its way into Hollywood moviemaking. But the claim alone could be just the leverage they need to pressure Red Granite into letting them in on Dumb and Dumber To, and by that we mean the profits of Dumb and Dumber To, which has already wrapped production.
Working against Red Granite's case is Aziz himself, who has recently been accused of creating his fortune from devious means. Also raising eyebrows is that weird business ahead of the Oscars where Red Granite producers didn't qualify to be counted as producers for the Best Picture category, even though they provided the entirety of the budget. However, let's make clear: we don't know why Red Granite was discounted from Oscar rewards. At this point connecting that and this lawsuit is pure industry speculation.
For their part, Red Granite has struck back against these allegations, releasing a statement to THR that reads:
We'll give you more on this story as it develops.
Your Daily Blend of Entertainment News
Staff writer at CinemaBlend.