The Wolverine Won't Include Jessica Biel As Viper After All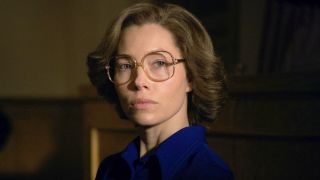 (Image credit: Hulu)
When reports broke during Comic Con that Jessica Biel would be playing Viper in the upcoming The Wolverine, I got the feeling it was a little too early-- Biel was at Comic Con promoting Total Recall, after all, so if negotiations were ongoing, she wasn't part of them. Now it turns out my skepticism was warranted for once-- Collider has learned that negotiations between Biel and the studio have broken down, and 20th Century Fox is now looking for other actresses to fill the role in the film, which starts production next month in Australia and Japan.
After years of delays, The Wolverine will finally be our chance to catch up with Hugh Jackman's claw-wielding character, who will be finding his way through Japan this time around. So far the only actors officially cast beyond Jackman are Japanese, plus American Will Yun Lee as Silver Samurai, a mutant with the ability to cut through any substance, including adamantium. It's unclear how they're going to work in Viper, a villainess with connections to HYDRA (you may remember them as the Nazi monsters from Captain America: The First Avenger) who once forced Wolverine to marry her in the comics. But they're going to have find a new up-and-coming starlet to play her, which is a shame, because I think Biel does have the necessary grit to play a hard-core villainess, and I was interested to see what she'd bring to the table.
With production starting next month, the team behind The Wolverine is going to have to really hustle to make the scheduled July 26, 2013 release date.
Your Daily Blend of Entertainment News
Staff Writer at CinemaBlend