The Words, Black Rock Among The First Sundance Acquisitions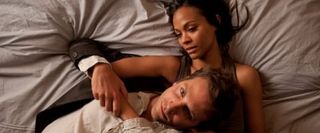 We're just three days into this year's Sundance Film Festival, but believe it or not, things are about to start slowing down. The big-time buyers and industry people sometimes start filing out of town on Monday, which means the weekend is crammed full of deal-making and negotiations on the way to getting the festival's biggest films out into theaters. While some of the biggest, buzziest hits so far are still in the middle of negotiations-- Beasts of the Southern Wild, Celeste and Jesse Forever and Robot and Frank all seemed destined for pickup shortly-- some other successes have already found homes.
The festival's first pickup happened when things had barely begun, when Sony Pictures Classics picked up the documentary Searching for Sugar Man, which screened for the press on Thursday night. The story of "the greatest '70s U.S. rock icon who never was" apparently packs some surprises, and though I haven't seen it, I've been hearing deliberately vague, good things from those who have. It didn't take long for the next big pickup to happen, when Magnolia bought The Queen of Versailles, which has been described as a hilarious documentary that's also an indictment of the 1%, about a couple who aimed to build the largest private home in the country.
After those two big acquisitions, some of the starrier titles started finding homes as well. Deadline reports that CBS Films is getting ready to make the festival's first seven-figure deal by picking up The Words, the drama starring Bradley Cooper and Zoe Saldana that, thus far, has only screened for industry here at the fest-- almost nobody has seen it. And in one of the quickest deals I've heard of, Saturday's midnight premiere Black Rock has apparently found a home by Sunday morning, with LD Entertainment, a new distribution unit that beat out the likes of Lionsgate, Magnolia and IFC to pick up the indie horror film. It makes sense that it was an easy sell-- it's a sly twist on the usual girls-in-the-woods horror genre, but it also has thrills that laughs that mean it plays well too.
There are still plenty of films premiering as I write this, and lots of deals to come, so I'll be back with more information on Sundance distribution, and when you can see the biggest hits of the fest so far. For all of my Sundance coverage, including reviews and video blogs, go here.
Staff Writer at CinemaBlend
Your Daily Blend of Entertainment News
Thank you for signing up to CinemaBlend. You will receive a verification email shortly.
There was a problem. Please refresh the page and try again.