X-Men: Days Of Future Past Almost Featured A Younger Wolverine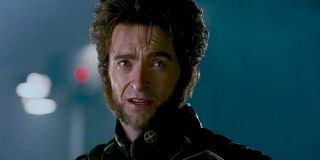 The X-Men are getting older. There's no arguing that, as the franchise dates back almost a decade and a half now. It's a bit scary to think about the actors and actresses we've come to know as Jean Grey, Cyclops and Storm being replaced, but in the upcoming 2016 sequel, that's exactly what we're going to see. Scarier yet, is the thought of Hugh Jackman's Wolverine being replaced by a younger, more "age appropriate" model. It may sound hard to believe, but that's exactly what almost happened in 2014's X-Men: Days of Future Past.
Many fans of the franchise would argue X-Men: Days of Future Past was close to hitting all of its marks. That argument could have gone a drastically different way had Matthew Vaughn been in the director's chair, because as it turns out the filmmaker had a very different view on how Wolverine should appear in the film. And we're not just talking about makeup, costume, effects, etc... we're talking the man behind the mutant himself. Check out what he had to say in an interview with MTV News about Jackman's involvement, or better yet his lack-thereof, had he moved forward as director of the film rather than jumping ship to helm the recent Kingsman: The Secret Service:
So Vaughn wanted Jackman to play the future-set scenes while having a much younger actor play the 70s version. Why it's necessary at all to replace him comes up as an obvious question. Need we go into the fact that he was born centuries ago and that his mutant powers are exactly the reason for his physical appearance and lack of aging. I guess, however, with Hollywood being the way it is, it's only a matter of time before he's considered too old for the role.
Maybe Vaughn was just forward-thinking with his desire to move Jackman out for Days of Future Past. He is the man responsible for breathing fresh life into the X-Men franchise through his 2011 installment X-Men: First Class, following up on Brett Ratner's 2006 sequel The Last Stand. So, while we're not necessarily thrilled with the idea of a non-Jackman Logan, the director does have some credibility with the franchise.
The upcoming Bryan Singer-helmed X-Men: Apocalypse, which still has yet to officially cast Jackman as Wolverine, hits theaters in May of 2016.
Your Daily Blend of Entertainment News
Thank you for signing up to CinemaBlend. You will receive a verification email shortly.
There was a problem. Please refresh the page and try again.