Watch How X-Men: Days Of Future Past Should Have Ended In This Clever Video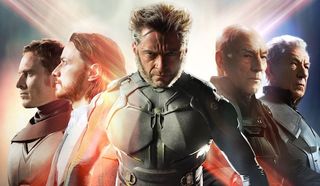 While X-Men: Days of Future Past was critically and commercially successful last year, it was by no means perfect. That makes it ripe for the folks over at How It Should Have Ended to give their own take on how events in the movie should have gone down. Take a look at the full episode below!
While not nearly as harsh as other satirical videos, this installment does draw attention to two aspects that weren't utilized as well as they should have been in X-Men: Days of Future Past: Quicksilver and time travel. In the former's case, rather than leave him behind after rescuing Magneto from the Pentagon, young Charles Xavier decides to just bring him along to help stop Mystique from killing Bolivar Trask. Quicksilver isn't sure his mom will let him come, but Magneto settles the matter by revealing he's his father - although he refuses to discuss it further. Hours later and thanks to Mystique's "horrible aim," Quicksilver rushes her out of there and Charles tells Trask to keep in mind that mutants just saved his life.
As with most How It Should Have Ended superhero parodies, this one ended with the main protagonists of the movie hanging out at a diner that Batman and Superman frequent often, only this is the '70s version judging by the wall decor and the old school costumes the superheroes are wearing. Young Charles is happy everything got fixed (a.k.a. their past adventures erased) while Wolverine is just… dazed. Evidently '70s Logan doesn't remember anything that his future self has been up to, so it's understandable he'd be confused why he's hanging out with people he's never seen before.
Superman likes the idea of using time travel to save everyone and says he might try it someday, which is a not-so-subtle poke at the plot of 1978's Superman. However, it's Batman who wisely suggests to just send Wolverine's mid back to the point in 1962 when Erik and Charles approached him at the bar to join their team. Before '60s Logan can curse them out, future Logan takes over and lay down some harsh truths on these two mutants. It must have worked, because 50 years later, Charles is still able to walk.
Admittedly, when you have a character that can run super fast, it makes most challenging tasks easy to accomplish. The downside is that the story wouldn't be nearly as interesting, so it's probably best that Quicksilver was left out after the Pentagon prison break. Besides, he'll have more opportunities to shine in X-Men: Apocalypse. By the way, if time travel is being used to fix superhero mistakes, someone needs to send Logan back to 1995 and convince Warner Bros. not to make Batman and Robin. Now there's something we'd all be better off without in our lives.
Connoisseur of Marvel, DC, Star Wars, John Wick, MonsterVerse and Doctor Who lore. He's aware he looks like Harry Potter and Clark Kent.
Your Daily Blend of Entertainment News
Thank you for signing up to CinemaBlend. You will receive a verification email shortly.
There was a problem. Please refresh the page and try again.